Taking 'Responsibility': Michael Phelps Admits He Is 'Deeply Sorry' For Humiliating DUI In Earnest Tweets — Does He Mean It?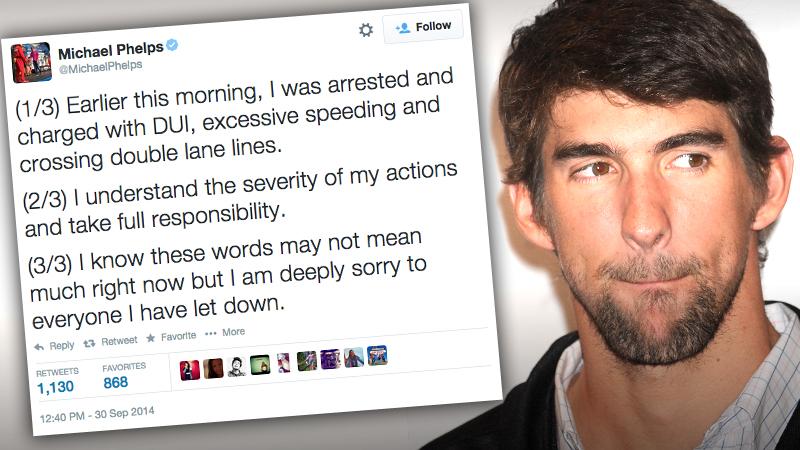 Has Michael Phelps finally hit rock bottom? Hours after being arrested for his second DUI in Baltimore, the former Olympic hero apologized to fans and bared his soul in a series of ashamed tweets, and RadarOnline.com has all the details.
"Earlier this morning, I was arrested and charged with DUI, excessive speeding, and crossing double lane lines," he wrote Tuesday afternoon.
"I understand the severity of my actions and take full responsibility," he continued.
Article continues below advertisement
"I know these words might not mean that much right now," Phelps wrote, "but I am deeply sorry to everyone I have let down."
As RadarOnline.com has reported, Phelps was pulled over in his Land Rover for exceeding the speed limit, and police noticed he exhibited signs of intoxication. His BAC registered at nearly two times the state's legal limit.
Phelps was taken into custody near "Fort McHenry Tunnel on I-95 in Baltimore," according to the Maryland Transportation Authority.
Phelps, 29, previously received a DUI in 2004, four years prior to his star-making turn in the 2008 Olympics. After he was booked, he was released on bail.
This isn't the first time he's offered a public apology for his embarrassing behavior. After Star magazine published photos of him smoking a bong in 2009, he apologized for his "regrettable" behavior and admitted he had "demonstrated bad judgment," while avoiding a confession of pot use.
At the time, USA Swimming issued a public statement reprimanding Phelps, and also withdrew his financial support and eligibility to compete for three months.
Reps for USA Swimming and Phelps did not respond to RadarOnline.com's request for comment this time around.
Story developing.