Fans Jeer Lindsay Lohan's 'Car Crash' London Stage Debut As She Is Fed Lines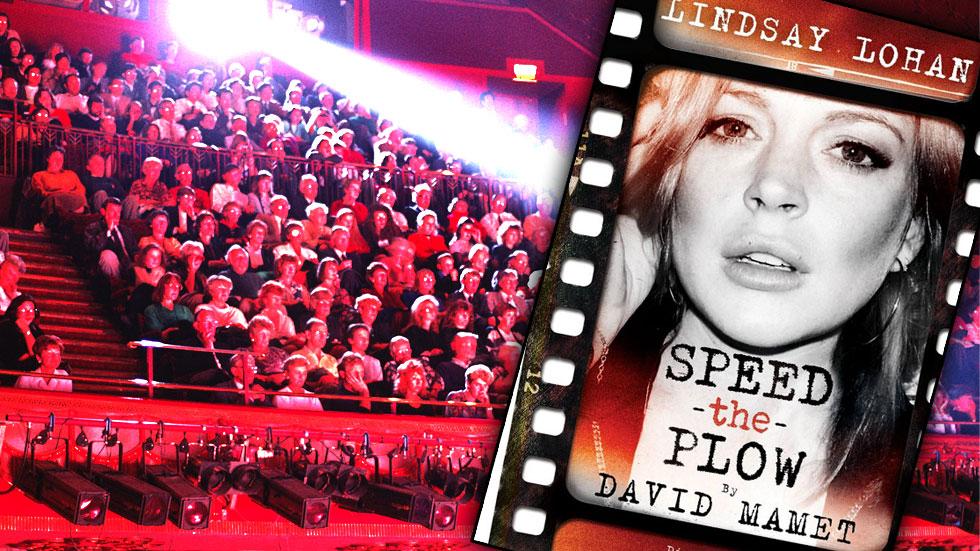 For months it has been considered to be one of the hottest tickets in town. And when Lindsay Lohan made her stage debut in London's West End on Tuesday night she didn't disappoint – but for all the wrong reasons. The former child star reportedly had the audience in giggles as she had to be fed lines during the opening night of Speed-the-Plow, and RadarOnline.com has all the details of what one critic called a "total car crash."
Article continues below advertisement
According to TheDailyBeast.com the first night of previews went shockingly badly for the 28-year-old former child star, who has been a fixture of the London nightlife circuit in recent weeks.
Embarrassingly LiLo even had to be fed her lines on several occasions.
A reporter for website wrote, "After her first audible prompt, which came shortly after the interval, the audience sat patiently. The second led to titters in the stalls. Unfortunately for Lohan, the next line delivered by Richard Schiff (Toby from The West Wing) was: 'You have done a fantastic job!'
"The laughter grew louder," the critic wrote.
Poor Lohan reportedly sat staring at a book – one of the on-stage props – and apparently received a "third prompt from the wings."
This time she smirked.
Lohan's lines supposedly prompted laughter even when they weren't meant to be funny and The Daily Beast quotes one audience member as saying: "Oh my God, it's so embarrassing."
It wasn't all Lohan's fault though. During the second half of the performance an audience member in the box closet to the stage split champagne over someone in the front row.
Article continues below advertisement
While some mistakes are expected in the preview stage of a new production London's theatergoers can be unforgiving and one took to Twitter to express her disgust.
She tweeted after the show: "So Lindsay Lohan had her lines written down in a book & also got fed a line. Total car crash."
However, Lohan still has time to perfect her performance.
London's theater critics don't get a chance to officially review the production until press night on October 2.
In an interview published in the London edition of Time Out earlier this week, Lohan did admit to being nervous and said she has never really appeared in a play before.
Asked if this was her first time on stage, the actress said, "Erm, I did one: I did Cinderella. I was one of the stepsisters. But I was really young, so no. This is all completely new to me. I know I'm gonna be nervous but everyone's been so nice."