Off-Broadway Show Claims To Have Last Recording Of Joan Rivers — In Which She Complains About Her Voice — But Comic's Reps Deny It's Her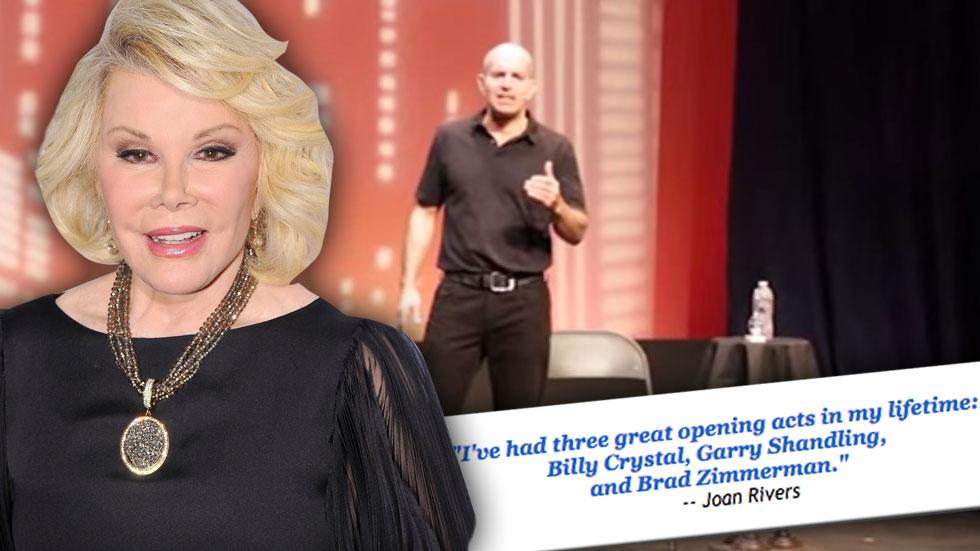 Organizers of an off-Broadway show claim they have the last audio recording of the late Joan Rivers — which includes complaints she made about how her vocal cords were bothering her — though reps for the comedienne deny its' validity.
In the clip, Rivers can be heard saying, "My voice has been bothering me, I don't know what it is — I feel like sh*t, I'm tired already."
Producers of My Son the Waiter, a Jewish Tragedy, a one-man show starring Rivers' friend Brad Zimmerman, said that the audio is from a promotional clip Rivers recorded for the play as a favor to Zimmerman, who she occasionally worked with.
Article continues below advertisement
"Joan used Brad as an opening act many times, and when we asked her if she'd do the spot, she said 'sure' immediately," an official for the play told the NY Post. Rivers' rep countered, telling the paper the voice heard on the tape "is definitely not Joan," as the vocals don't "even close to Joan's voice.
"Everybody knows her voice," the publicist said, noting that Rivers had agreed to record the promo, but never actually did. "It's so distinguishable — definitely not Joan."
Hear the audio on RadarOnline.com:
youtube
In the purported Rivers recording, the Fashion Police personality is heard saying, "Hi, I'm Joan Rivers, can we talk? About Brad Zimmerman: He waited on tables for 29 years, stupid or what? Before he got up the nerve to write a hilarious show."
She's then heard complaining about the script, calling it "terrible copy," and asking, "Who wrote this crap?"
She continued, "Anyway, the critics are calling it hilarious, a total must-see, and I love him, too. So don't wait 29 years to see my friend."
Rivers couldn't make it though the full recording, stopping to then grouse, "My voice is bothering me … I can't … I have to do it again."
Rivers died Sept. 4 at Mount Sinai Hospital, a week after she fell ill during the initial Aug. 28 endoscopy on her vocal cords, in which a previously-unplanned biopsy was performed. After a star-studded funeral in New York, Joan's daughter Melissa held a party in her memory in Los Angeles over the weekend.