'Beaming' Jill Duggar Tries On Bridal Gowns In Latest '19 Kids and Counting' Episode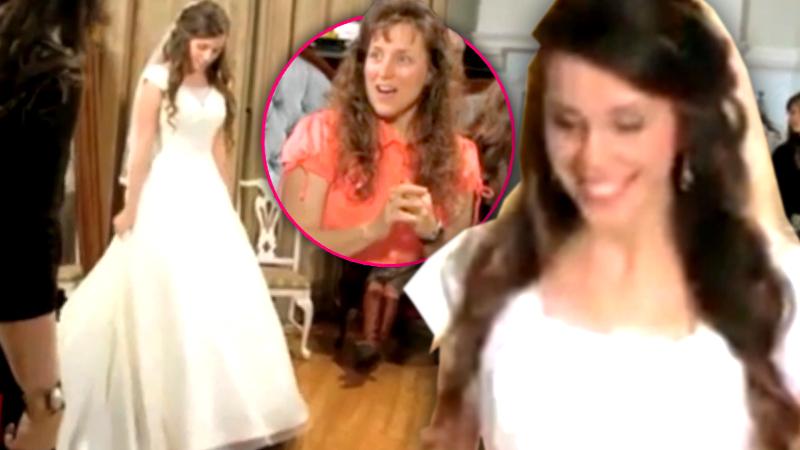 When Jill Duggar tried on a series of wedding gowns in front of her mom and sisters in Tuesday's episode of 19 Kids and Counting she was greeted with a sea of "oohs" and "ahs."
Fans of the reality TV show got to follow the bride-to-be – now a pregnant newlywed – as she chose a dress for her big day.
Jill's mom Michelle Duggar was possibly the most enamored as her 23-year-old daughter twirled in front of a full-length mirror.
Article continues below advertisement
The mom-of-19 later told the camera: "Having Jill walk out and having on a beautiful wedding dress, she just glowed.
"I mean she really was beaming."
But, as you can see in the 47-second clip, choosing a wedding dress wasn't all smooth sailing and Jill admitted that it wasn't easy trying to narrow the choices down to find the right one.
She said: "I have a few different ideas but you don't really know until you try a dress on.
MORE ON:
19 Kids and Counting
"So you can see something hanging up and be like, 'Oh I love it' and then put it on and then be like, 'Oh maybe it's not my dress'."
On Tuesday Jill took to her Twitter page to thank the bridal shop that helped her choose the right dress.
She wrote: "Thx again to @AvaLaurenne @CMStutzman for the 'princess treatment!' I couldn't have imagined anything better!"
Jill married Derick Dillard on June 21 and the couple is now expecting their first child.