Exclusive
BFFs No More? Inside Jennifer Garner's Meltdown Over Matt Damon Skipping Ben Affleck's Big 'Gone Girl' Premiere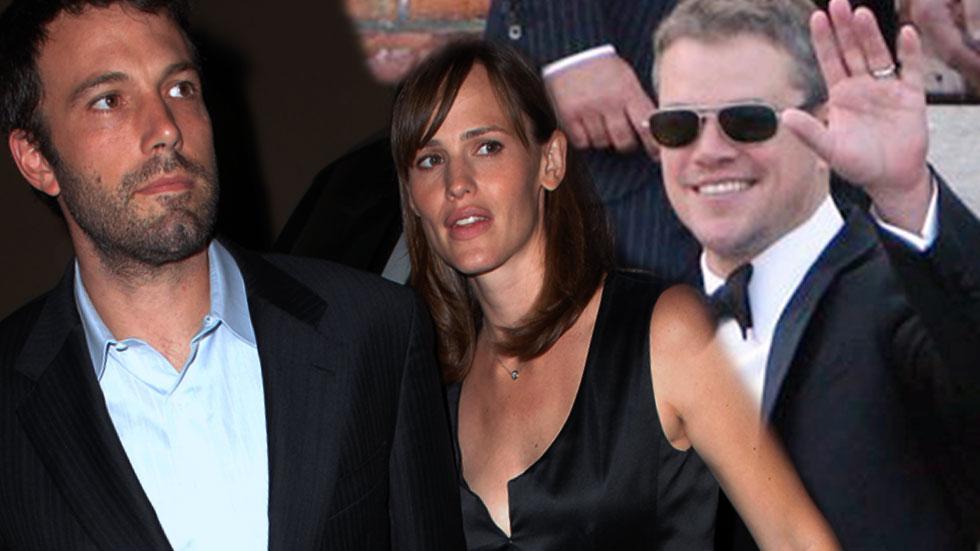 Is Hollywood's favorite bromance on the rocks? RadarOnline.com has learned that Matt Damon's absence from the Friday premiere of Ben Affleck's highly-anticipated and Oscar-touted role in Gone Girl definitely did NOT go unnoticed by Mrs. Affleck herself, Jennifer Garner, who was less than pleased that her hubby's supposed BFF skipped out on the high-profile event to attend George Clooney's wedding.
"Jennifer was furious that Matt didn't go to the premiere," an eyewitness told RadarOnline.com exclusively. "She flipped out that he ditched his best friend on his big night to go to George's wedding instead."
Article continues below advertisement
Says the source, Garner thought he could have walked the carpet and then hopped on a plane to Italy, where Clooney tied the knot with Amal Alamuddin in a Venetian extravaganza Saturday surrounded by a who's-who of VIPs, including Vogue editrix Anna Wintour, Rande Gerber, Cindy Crawford, Emily Blunt, John Krasinski, and his Ocean's 11 and Monuments Men co-star Damon and his wife Luciana Barroso.
Affleck and Damon's storied superstar friendship began long before Tinseltown came calling in their hometown of Cambridge, Massachusetts, and when the twosome co-wrote and starred in Good Will Hunting that took home Oscar gold they were thrust into the national spotlight.
They've been known to make fun of each other and make films together. And the enduring "hetero lifemates" have long- supported each other's massive projects, with Affleck and Garner going to the Bourne premieres, Damon hitting up The Town and Argo red carpets, and their families even vacationing together.
"Jen and Ben go to every event for Matt," said the source of the overheard behind-the-scenes beef. "She was just mad because he could have tried to do the same for Ben, and still made it to George's wedding in time."
But, it seems, Affleck was more forgiving of his friend. After a few calming words from Garner's husband, who kept his cool, Affleck stepped out onto the red carpet alongside a stunning and very pregnant Rosamund Pike for the New York City fete.
"Ben calmed her down," added the eyewitness. "But people in the vicinity were shocked."