Exclusive
In The Doghouse! PETA Slams Teen Mom Jenelle Evans For 'Punishing' Her Pets On Air — Find 'Them A New … Home,' Rep Demands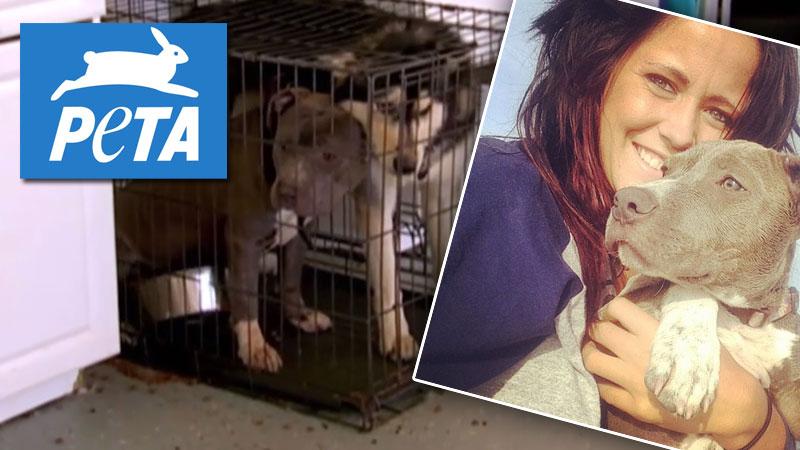 Teen Mom 2 star Jenelle Evans signed over custody of her son, Jace, to mom Barbara Evans back in June 2010. Now, she and fiancé Nathan Griffith have a newborn, Kaiser, at home, but could she be ready to give up custody again? This time, it's her dogs who are the issue, as RadarOnline.com has exclusively learned that animal rights organization PETA has issued a public plea asking Evans to surrender her dogs to "a new, suitable home," after disturbing footage from the MTV reality show showed her yelling at the crated pups.
Article continues below advertisement
On this weekend's episode, then-pregnant Evans was shown coming home to find one of her dogs, a Siberian Husky mix called Moogan, had relieved himself in the laundry room.
Evans immediately begins to yell at Moogan, and attempts to drag the pooch back to its crate.
The dog manages to escape and cowers in the corner, at which point she says, "I really don't like you, and I'm going to get rid of you before Nathan comes home from jail."
Another scene depicts Moogan and pit bull Jax in crates. Though Evans releases Jax, she continues to yell at crated Moogan, threatening to get rid of the four-legged creature.
A rep for PETA tells RadarOnline.com the organization was inundated with complaints from viewers after the show aired.
"This morning, PETA sent a letter to Teen Mom 2 star Jenelle Evans urging her to turn her dogs over to someone who can find them a good home where no one yells at them, keeps them locked in crates in the garage most of the time, or resents them for 'doing their business,'" a rep for PETA told RadarOnline.com.
Article continues below advertisement
In the letter, PETA—whose motto says, in part, that "animals are not ours to abuse in any way"—points out that "dogs are highly social pack animals who require companionship and exercise for their physical and psychological well-being, and that they suffer immensely when they are caged for hours at a time just because it's 'convenient' for their guardians." PETA has offered to transport the dogs to be placed up for adoption through the Spartanburg Humane Society.
"As much as you want to do the right thing for your dogs, you have so much going on in your life that you have neither the time nor the patience to give them what they need," writes PETA's Merrilee Burke in the letter. "We urge you to be strong and do what's right: Please immediately make the commitment to finding them a new, suitable home where they are not kept in crates and punished and yelled at for relieving themselves."
Article continues below advertisement
Evans recently addressed the issue on an MTV video blog, saying, "You know, when Nathan was in jail, and I was pregnant, and I had Jace, and it was a really hard time for me taking care of the dogs. So, I treated the dogs really badly, and I really wish that I didn't."
"I ended up getting very overwhelmed, and instead of just taking the break, I got very angry, very irritated, and I should have just actually took a little breather and then went back and dealt with the situation," Evans reflects. "It's also very important for me to be a very good role model to my son, so instead of, you know, acting out like I did, I should've handled it a different way — not with so much anger."
"Instead of just dealing with it by myself, I mean, I could've went to different websites to give me ideas. One of the websites that really helped me was ," she continued," and on there it gave me a lot of different resources on how to deal with dogs. … I do love those dogs dearly."
Watch the disturbing interactions here:
at the 15:40 and 33:47.
Do you think Jenelle was just overwhelmed or should she surrender her pets? Let us know in the comments!