Exclusive
Disney Divas Done? – The Real Reason Demi Lovato Ended Her Friendship With Selena Gomez – Demi Is 'Over Her BS'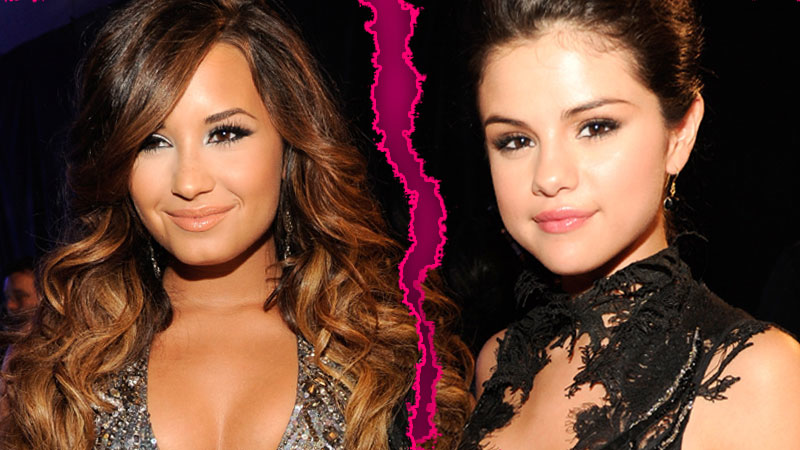 Last week, Demi Lovato broke her silence on ending her 10-year friendship with Selena Gomez during a taping of Watch What Happens Live when she said, "I think it's just one of those things where people change and grow apart." But according to sources, that's an understatement. The two haven't spoken since Lovato famously unfollowed Gomez on Twitter on July 2, and only RadarOnline.com has the details of their bitter split.
Article continues below advertisement
"Demi is so fed up with all of Selena's BS," a source close to the "Really Don't Care" singer tells RadarOnline.com exclusively. "She has given Selena so many chances to learn from her mistakes and grow up and Selena keeps going back to the source of her misery", referring to Gomez's on-again, off-again volatile relationship with boyfriend Justin Bieber.
In addition, the source says, "Selena's partying has gotten out of control and Demi simply cannot tolerate it anymore. Selena used to support her sobriety and her recovery, but lately she is just a trigger to Demi."
"Also, Selena is hanging out with Taylor Swift and acting like they are in high school," the source says. "Taylor and Demi do not associate with each other because of all of the drama Taylor put Joe Jonas through after they split and she wrote songs about him. Joe is Demi's best friend."
Can we expect a public battle between these two former Disney princesses — and Barney & Friends co-stars — in the near future?
"Demi will never bad mouth Selena to anyone because she is not that kind of person," the source says. "Selena has to go down her own path and Demi can only worry about herself. She just does not have time for Selena's baggage anymore."
What do you think? Are these former BFFs done for good or will they kiss and make up?