No Friend Of Carbs! Jennifer Aniston Tips Scales At About 115, But Sighs, 'I Would Love To Drop Five Pounds'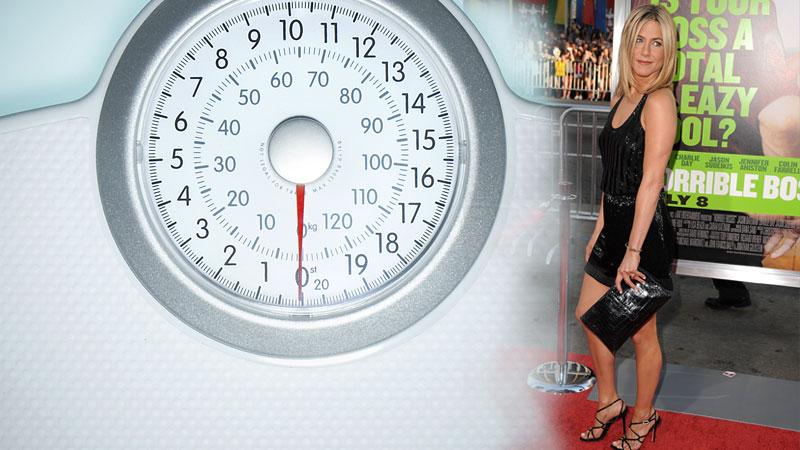 Svelte Jennifer Aniston has shocked her fans by complaining about tipping the scales at about 115 pounds — and confiding that she wants to lose five more.
In an interview with Yahoo! Beauty that is sure to raise eyebrows, the former Friends star, 45, sighs, "These days, if I was being super picky, I would love to drop five pounds.
"That is just where I have always been really comfortable at about 110 to 113 pounds. But it is harder to get that down, at this age."
Article continues below advertisement
According to Body Mass Index (BMI) charts that assess healthy weight, the 5'5" actress would be underweight if she dropped to 110 pounds.
But Aniston, whose toned body always turns heads, shuddered to her Yahoo! interviewer, famed makeup artist Bobbi Brown, that she'd broken her diet and eaten a bagel.
"I usually give myself bread on the weekends, but really, my body doesn't love carbs," Aniston revealed.
"I have a Greek salad in front of me, but I also indulge … there's a balance."
PHOTOS: Deadly Diets – Can Fame Become Fatal? See The Pictures!
The Horrible Bosses star admitted, "There is also this pressure in Hollywood to be ageless."
Still, Aniston has vowed not to get plastic surgery, commenting, "I think, what I have been witness to, is seeing women trying to stay ageless with what they are doing to themselves. I am grateful to learn from their mistakes, because I am not injecting sh*t into my face. I see them and my heart breaks."
"I think, 'Oh God, if you only know how much older you look.' They are trying to stop the clock and all you can see is an insecure person who won't let themselves just age."
Aniston, who is engaged to Justin Theroux, joked that he would kill her if she turned to plastic surgery.
"I also have a fiancé who will put a gun to my head if I touch my face in any way," the beauty said.