Exclusive
Wine-no! Justin Theroux Begs Jennifer Aniston For A Non-Alcoholic Wedding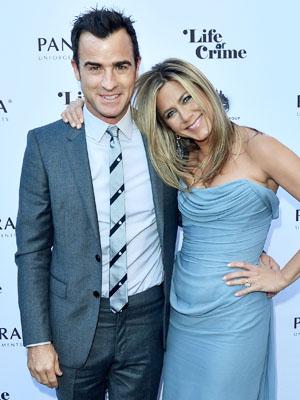 Justin Theroux is begging fiance Jennifer Aniston to kick her wine habit and is even pushing for a non-alcoholic wedding, RadarOnline.com has learned.
"Everyone knows that Jennifer loves wine, but Justin would really like her to stop drinking entirely," a source told Radar.
And now, Theroux, 42, even hopes for a dry wedding when he walks down the aisle with 45-year-old Aniston, according to the source!
Article continues below advertisement
"The older Justin gets, the more he's become a super health freak, and he wants Jen to follow suit. She's definitely slowed down her boozing since she and Justin hooked up, but she still loves two or three glasses of wine every night. Justin's hope is that she's going to give that up soon," said the source.
But is that really possible?
Aniston told Harper's Bazaar UK in 2010 that she followed a healthy diet but wine was one of her non-negotiable indulgences. "You're not taking away...my glass of wine because I'd be devastated," she said.
And on one of their dates in 2012, the Friends actress and Theroux were reportedly spotted drinking wine together at the Chateau Marmont in West Hollywood.
But recently, the source said Theroux has been on a health kick in which he's eliminated booze and would love for his fiance to follow suit.
"Jen is totally capable of quitting and has never gotten into trouble with her love of vino but Justin doesn't like how she'll easily down a bottle of wine a night without batting an eyelid," the source noted.
'
"He really wants her to quit and has been pushing for a non-alcoholic wedding – an idea that was met with great laughter by Jen and her girl crew."