Exclusive
LAPD Under Fire! Chief Charlie Beck Nixed Disciplinary Hearing For Daughter's Boyfriend Over Threats Her 'Racy Pics' Would Be Released — Now He's Under Investigation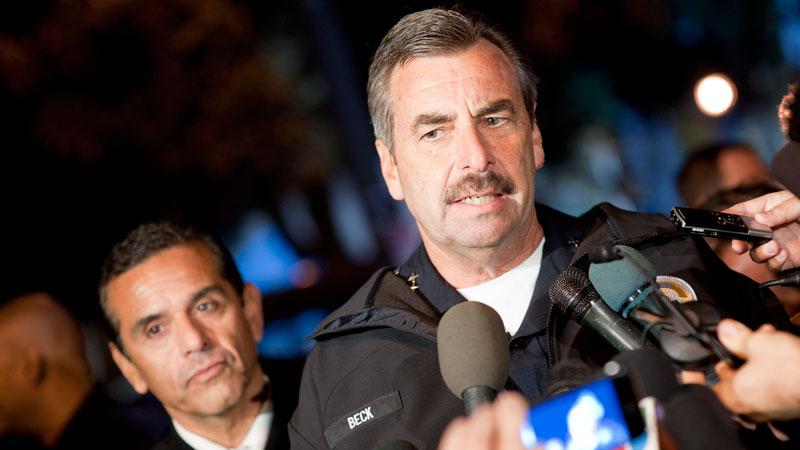 Los Angeles Police Department Chief Charlie Beck is in hot water, RadarOnline.com has learned, after he cancelled disciplinary board hearings against a cop who dated his daughter when a mole threatened to leak "racy pictures" of her.
LAPD Sergeant George Hoopes was set to appear a disciplinary board hearing for dating Beck's daughter, Brandi Pearson, who is also a cop with the LAPD.
"Hoopes was facing the hearing because it's against LAPD policy for a cop in a superior position to date someone working underneath their command," an insider told RadarOnline.com. "But before the hearing, unbeknownst to Sgt. Hoopes or his lawyer, someone threatened to release compromising pictures of Brandi that would not only embarrass her father, but the entire department. The timing of the racy pictures and cancellation of the disciplinary hearing didn't seem like a coincidence."
Article continues below advertisement
As a result, the source claimed, Chief Beck "personally ordered the disciplinary board hearing of Sgt. Hoopes cancelled," the night before it was scheduled to take place.
Now, according to the L.A. Times, the commission that oversees the LAPD is investigating Beck's role in the cancellation.
Sgt. Hoopes' famed attorney, Ira Salzman, told the paper his client admitted to having a consensual relationship with Beck's daughter, while both were working in the Hollywood division. Hoopes also had planned on inviting the media to attend the disciplinary hearing.
Chief Beck recently came under fire after the Los Angeles Police Department Foundation, a non-profit fundraising group that raises money for the cops, purchased a horse that his daughter, Pearson, owned for $6,000.
She is currently serving on the LAPD's Mounted unit.
Despite the controversies surrounding Beck's daughter, and the recent revelation that the LAPD misreported 1,200 crimes as misdemeanors instead of felonies, the Los Angeles Police Commission recently approved a second five-year term for Chief Beck.
The panel voted 4-1, and Police Commission President Steve Soboroff said while there were areas where Beck could improve the "positives far outweigh the negatives."
The lone dissenting vote was cast by Robert Saltzman, who said during the proceedings, "The Department would be served with new executive leadership."
An LAPD spokesperson offered a very terse,"No comment," when approached by RadarOnline.com about the scandal, and Sgt. Hoopes' attorney didn't immediately respond to a request for a statement.