'Teen Mom 2' Battle: Jenelle Evan's Mom Barbara & Baby Daddy Nathan Griffith Get Into ANOTHER Screaming Match: 'If You Hurt My Daughter, I Will Be After You!'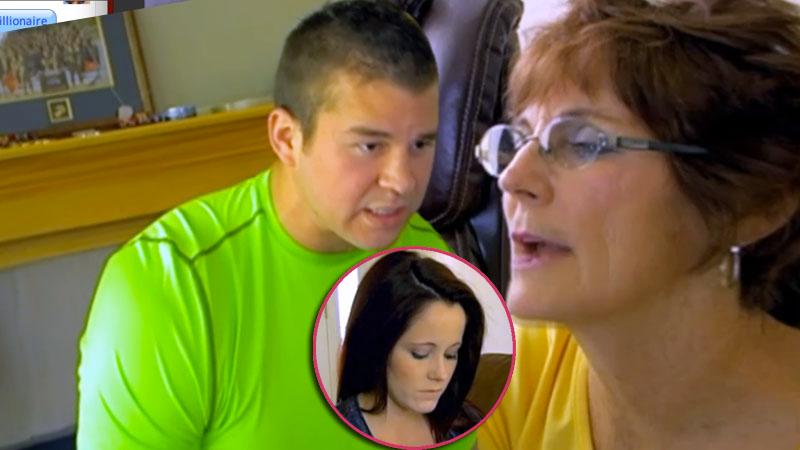 It's Barbara vs. baby daddy Nathan— round two!
In a sneak preview of next week's Teen Mom 2, a pregnant Jenelle Evans and her mother, Barbara, are planning her upcoming baby shower in peace— until the MTV reality star's boyfriend, Nathan Griffith, walks in the door.
When the 22-year-old recovering heroin addict and her man discuss adding a $200 Peg Perego car seat to their registry, Barbara begins chastising Griffith.
Article continues below advertisement
"You'd better start growing up and realize that money doesn't last forever," says Barbara, the legal guardian of Jenelle's 5-year-old son, Jace.
"We are two adults who take care of our own sh*t!" Griffith, 26, snaps back— right in front of little Jace. "You don't tell another adult how they should do things. It's wrong and it's disrespectful."
The fight spirals into a screaming match about Griffith's drinking issues. (The South Carolina native spent time in jail this spring for driving with a suspended license and was arrested for his third DUI in 2013.)
"You will not ever, ever, ever get Jace if you keep on drinking the way you do!" Barbara warns.
"Jenelle, when's the last time I drank? The night before last!" Griffith counters. "How many glasses of wine do you drink a night? You drink every night. You're an alcoholic!"
"Both of you just stop!" Jenelle finally shouts, breaking up the fight.
But Barbara has one final threat: "You hurt my daughter, I will be after you!"
Article continues below advertisement
This blowout isn't the first between Barbara and her daughter's boyfriend. Last season, Griffith accused her of being a bad parent in an epic showdown.
"You're a great parent. You got your daughter hooked on heroin. Good job, Barbara!" he screamed sarcastically in the March episode.
Months after filming the altercation, there seems to be peace in the Evans-Griffith household. Jenelle and Griffith welcomed son Kaiser on June 30, and the couple can't stop posting adorable photos of their little guy.
Was Barbara or Nathan in the wrong during their crazy fight? Sound off in the comments and watch the video below.