Jenelle Evans Boyfriend Nathan Griffith Slams Barbara Evans In Epic Fight: 'You're A Great Parent - You Got Your Daughter Hooked On Heroin!'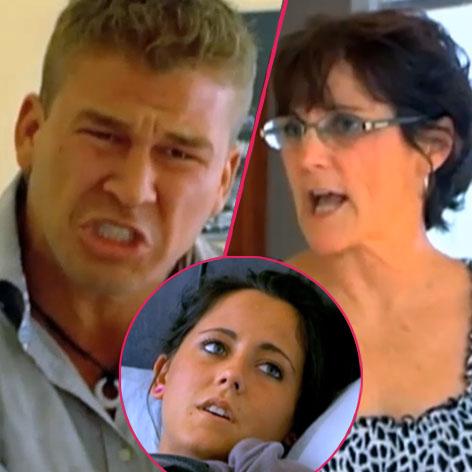 In a preview clip for the upcoming episode of Teen Mom 2, Jenelle Evans said that her mom Barbara came over to visit her and set things straight after continually fighting with her about her new boyfriend Nathan Griffith.
Unfortunately, with Jenelle's estranged husband Courtland Rogers getting out of prison, Babs wasn't in the best of moods and got into it with Nathan.
"I wouldn't be driving around on the streets of Myrtle Beach because he knows that car," Barbara warned Jenelle. "The last time he tried to run you off the road."
Article continues below advertisement
She then started picking on Nathan.
"Nathan, you better not drive her car," Babs said. "If he tries to run you off the road and you get into an accident, she's going to lose her car and her insurance. You understand?"
"Yeah," Nathan replied in an annoyed tone. "I understand perfectly."
Of course, Barbara wasn't done nagging.
"It's like every car she gets, the boyfriends wreck it," she said.
"Yeah, because I'm a horrible guy like that, right Barbara?" Nathan asked.
Article continues below advertisement
"I'm talking to you, I'm not talking to the baby," Barbara said as she chased after Nathan.
Nathan let Barbara have it.
"You don't think he hears things?" he screamed. "You're a great parent. You got your daughter hooked on heroin. Good job, Barbara."
Barbara defended herself: "I didn't put a needle in her arm."
"It's called parenting," Nathan stated. "If you kept a short leash on her and knew what she was doing..."
The clip ended with Barbara in a full rage as she said, "Don't ever tell me about raising my kids because I was a single mother with three kids!"