Exclusive
Defiance In Ferguson: Missouri Governor Jay Nixon Deployed National Guard Against U.S. Attorney General Eric Holder's Suggestion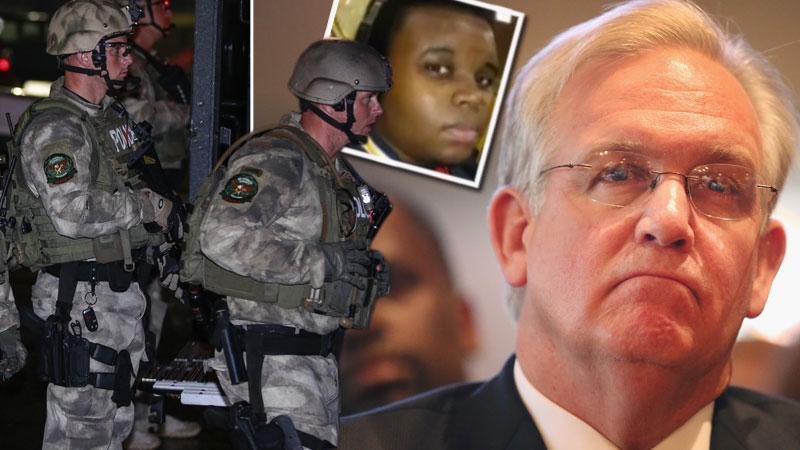 As turmoil rocked the streets of Ferguson, Missouri, RadarOnline.com has learned that Governor Jay Nixon defied advice from government officials who asked him to hold off on calling in the National Guard.
Protests erupted after unarmed African American teenager Michael Brown was shot six times last week by a white police officer.
In the aftermath, "Attorney General Eric Holder and the United States Justice Department both advised Governor Nixon to NOT send in the National Guard, because of fears it would only further polarize and divide the community," an insider told Radar. "Governor Nixon made the decision to call in the National Guard and didn't tell the White House beforehand."
Article continues below advertisement
"Governor Nixon is growing very frustrated with President Obama and Attorney General Holder because he has asked them to come to Ferguson to see firsthand what is going on in person," the source continued. "The community of Ferguson and the country seems extremely racially divided. The first African American President not coming to Ferguson just doesn't look good. Jetting back from his Martha's Vineyard vacation to Washington, D.C. to be briefed on the latest developments in Ferguson is just bad judgment. Go to Ferguson, Holder had been with Obama in Martha's Vineyard."
Details in the shooting remain murky, as police said the officer shot Brown after a scuffle in which Brown pushed him into his vehicle and tried to take his gun.
The National Guard is expected to be on the streets of Ferguson, Mo. on Monday night to protect local businesses from looting. Unlike the past two nights, Governor Nixon lifted a midnight curfew.
During a press conference, President Obama announced the AG Holder would be traveling to Ferguson on Wednesday. Story developing.