Exclusive
Sucked Dry: 'Vampire Diaries' Star Ian Somerhalder's Charity Spent More Than $100K On Expenses, Made Just One $550 Grant — Find Out Where The Donations Really Go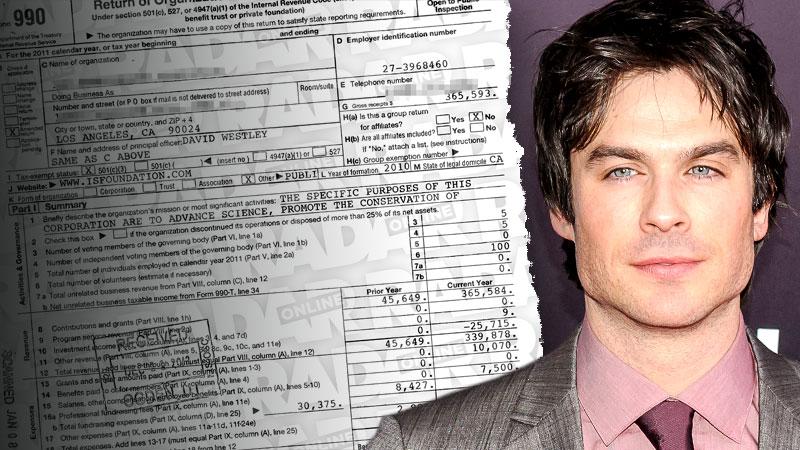 Is Vampire Diaries star Ian Somerhalder sucking donors dry? According to tax documents uncovered by RadarOnline.com, the actor's conservation charity made just one $550 grant while taking in more than $300,000 in donations in a recent year.
Tax documents filed by the Ian Somerhalder Foundation, created to "advance science," "promote the conservation of natural resources," and "provide relief to the poor, distressed or underprivileged" show that the charity took in $365,440 in contributions and grants from donors in 2012, plus $34,457, for a total income of $400,072. That same year, they paid out just one grant, to the Best Friends Animal Society and Wildlife Rehab, totaling $550.
Article continues below advertisement
READ The Tell-Tale Tax Documents
So where did the money go? The documents show the charity paid out $26,000 in salary to employees, and $579 in employee benefits. A total of $16,692 went to lawyers, and $29,680 was spent on accounting. Office expenses and rent totaled nearly $21,000, and travel expenses totaled a whopping $20,122 for just one year. Insurance totaled $10,079, paypal fees were $7,077, and other expenses added up to just $152,917 in expenses, more than 278 times the amount of grants paid out.
The previous year, the record was slightly better, if still not impressive. In 2011, the charity took in $339,878 and paid out $10,070.
And in 2010, according to documents, the charity took in $45,649 and paid out no grants at all. Expenses, however, topped $11,000.
Records for 2013 published on the foundation's website do not show any grants paid out, but do reflect an income of $504,240 and expenses totaling $193,027.
Article continues below advertisement
A website for the foundation states that while a large part of its mission is internal, directed towards "creating awareness" of global deforestation, and creating their own programs to combat animal cruelty, they do pledge to distribute "funds and resources towards global conservation, green energy development/deployment and educational tools."
A rep for the Foundation did not immediately respond to Radar's request for comment.
Do you think the charity has been doing enough? Let us know in the comments!