Exclusive
Awkward! Ian Somerhalder Kisses Cute Fan After Chilly Reunion with Ex Nina Dobrev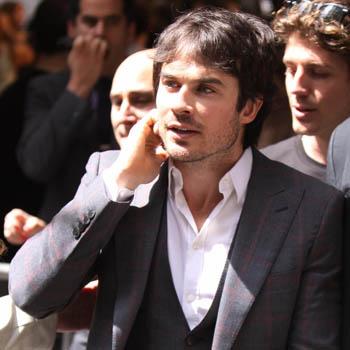 Breaking up is hard to do, especially if you're co-stars on one of the hottest shows on TV!
The Vampire Diaries fan faves Ian Somerhalder and Nina Dobrev looked painfully uncomfortable at their first public appearance since breaking up in early May at the CW up fronts on Thursday, and RadarOnline.com has all the details.
Once attached at the hip, the couple completely avoided each other on the red carpet, and appeared onstage only with CW president Mark Pedowitz acting as a buffer between them.
Article continues below advertisement
"It was a complete 180 from last year," an eyewitness tells RadarOnline.com. "Last year they looked like any young couple in love, and this time it was all business."
And when their official duties were done, "They couldn't wait to get out of there," the source says. "Ian told the fans he was running late and only stopped to sign one autograph."
But when a pretty brunette -- a dead ringer for Nina -- caught his eye, he made the time to make an impression. "He grabbed her face and gave her a kiss on the cheek!" the eyewitness says. "It was totally out of nowhere. All of the other girls were really jealous."
If it was intended to make his ex see green, however, it didn't work. At the after-party later that night, the couple avoided each other and refused to pose for photos.
This new strictly-business relationship seems to suit Nina, at least. Last fall, she told Seventeen magazine, "I didn't want to be dating one of my co-stars. My goal on the show was to be professional."