Exclusive
Does Amal Know? Inside George Clooney's Contentious Divorce From First Wife Talia Balsam READ The Details Of The Divorce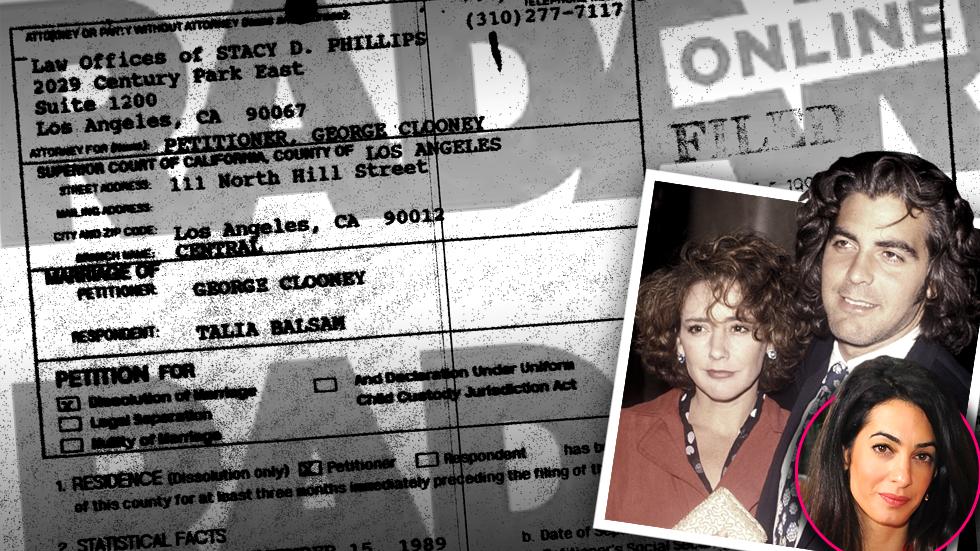 Long considered Hollywood's most eligible bachelor, George Clooney has technically been a divorcé ever since his 1993 split from actress wife Talia Balsam. Now, as Clooney prepares to marry London lawyer Amal Alammudin, only RadarOnline.com has a look at what she could expect if she and Clooney don't work out: According to court documents, his split from Balsam was a contentious one, with "disputed claims" and a six-figure settlement.
Article continues below advertisement
Balsam and Clooney wed in Vegas on December 15, 1989 before he filed for divorce on October 12, 1992, listing the date of separation as late August 1991. "I probably, definitely wasn't someone who should have been married at that point," he's said. "I just don't feel like I gave Talia a fair shot."
But despite their short time together as husband and wife, the divorce would drag on for more nearly a year due to "disputed claims," finally wrapping up on September 21, 1993.
READ The 'Disputed Claims' In Clooney's Divorce
What took so long? According to the documents, the court found that Clooney and Balsam "acknowledged that disputed claims … existed as to what constitutes their community, quasi-community property, and separate property."
"Each of the parties has made conflicting claims regarding the value of said community property," the documents stated, and they even went so far as to hire a professional to come in to "appraise the community separate and property interests," before deciding just to do it themselves.
MORE ON:
Celebrity Justice
Article continues below advertisement
And it wasn't as if they had a multi-million-dollar empire to divide: The struggling artists haggled over everything from their Saab to their mattress box spring.
According to the documents, Clooney walked away with a number of bank accounts, a single family residence, a 1988 Saab, 1983 Harley Davidson, 1959 Corvette and a 1991 motor home. He also got a baby grand piano.
Balsam's haul included one queen size bed, box spring and mattress, and a 1988 Dodge.
On top of that, Clooney gave her a $95,000 lump sum upon the execution of the judgment, and $50,000 "as a reimbursement of her separate property contribution" to their home.
She waived her right to spousal support.
Meanwhile, Clooney and Alamuddin are expected to marry in a matter of weeks at his Italian villa on Lake Como, as RadarOnline.com has reported. There's no word on whether the couple has opted for a pre-nup.