Exclusive
Bristol's Broke? Palin Says She Made Zero Dollars For Nearly Two Years, Now Hitting Up Ex Levi Johnston For Child Support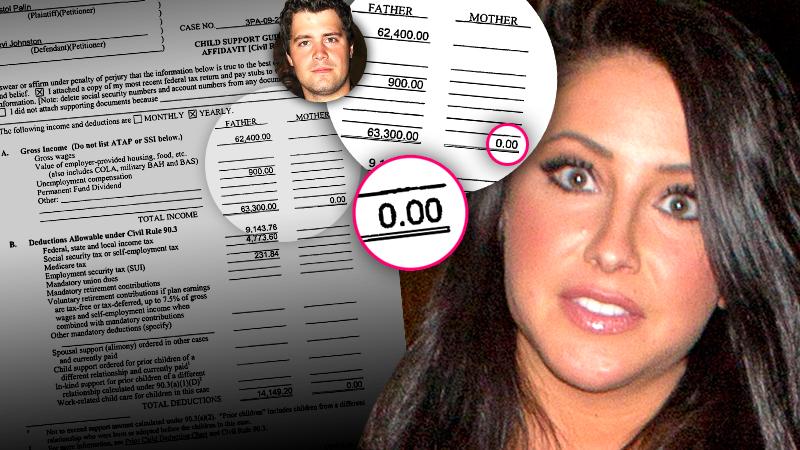 Article continues below advertisement
Both sides are arguing about the validity of temporary child support agreements they've had in the past, what Johnston's real income is, and just how much he's in arrears, with some alleged totals as high as $66,000. In the meantime, the Child Support Services Department is garnishing 40% of his current wages towards the payments.
Johnston, 24, said in an affidavit, "the amount is very taxing on my family, and if Bristol were to obtain a judgment, my wage garnishment is already at a cap of 40%."
Article continues below advertisement
Johnston notes that he has worked a regular "8-5 job" for several years. Palin, meanwhile, graduated from beauty school in Arizona back in April.
Her mother Sarah Palin said in a Facebook post at the time that her 23-year-old daughter had spent "a great four years" working at "Dr. Cusack's dermatology practice" in Anchorage prior to her beauty school stint.
"He's been an understanding and very patient boss," the proud mom wrote. "Bristol has enjoyed many opportunities in addition to her good employment in Anchorage at Alaska Dermatology and Laser Center."
But according to the court documents, she didn't make any income from her time there.
In past years, income certainly wasn't an issue for Palin. According to reports, she made $262,500 in 2009 for her work with the Candie's Foundation. The next year, she paid $172,000 cash for an Arizona home.
The next year, the money was rolling in when she was reported to have raked in a substantial paycheck for her Dancing with the Stars stint in 2011.
In 2012, she starred in her own reality show, Life's a Tripp.
Are you surprised that Palin hasn't been making any money for nearly two years? Let us know in the comments!