Exclusive
Happy Independence Day! Tori Spelling Drops Cheating Husband From Social Media Profiles As They Sleep In Separate Bedrooms — 'She's Found Her Own Voice,' Says Source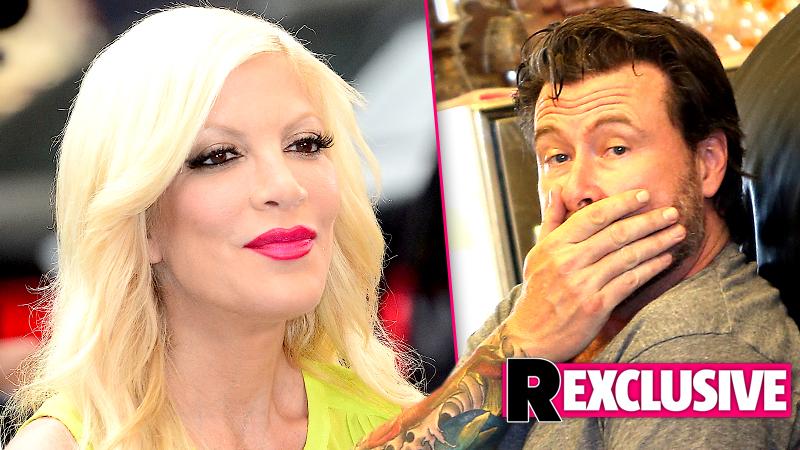 Tori Spelling is celebrating Independence Day early this year. RadarOnline.com has learned that the reality TV star recently dropped cheating husband Dean McDermott's name from her social media profiles because the former 90210 star is beginning to separate herself from the Canadian actor: According to one insider, she's stopped keeping tabs on his whereabouts, and they're even sleeping in separate bedrooms!
Article continues below advertisement
Earlier this week, Tori changed her Twitter and Instagram handles from @ToriandDean to @Tori_Spelling.
A source close to the actress told RadarOnline.com, "Tori is simply asserting her independence from Dean, and the cheating scandal. She really did find her own voice in the aftermath of his infidelity and doing the reality show True Tori."
A mom to two daughters, Stella, 6, and Hattie, 2, "Tori wants to set a good example," the source said, "and show the girls that she is strong and won't be simply defined by being Dean's wife.
Even though the couple is still living under the same roof, "they still aren't sleeping in the same bedroom," the source revealed.
In fact, Spelling is so checked out of her marriage, the source said, "She isn't even bothering to go through Dean's cell phone for text messages, or make sure she knows where he is 24/7. Dean has never seen this side of Tori and he isn't sure what to make of it!"
The couple recently put on a united front for daughter, Stella's sixth birthday party.
Article continues below advertisement
As RadarOnline.com reported, McDermott flew into Los Angeles from Toronto where he's filming the second season ofChopped Canada https://radaronline.com/exclusives/2014/05/dean-mcdermott-chopped-canada-no-flirting-tori-spelling/ to help celebrate at the little girl's big bucks birthday bash — for which Spelling dished out roughly $6,000.
"Dean flew in for the weekend to make sure Stella's birthday was special for her, even though he had to board a plane back to Canada just hours before her party on Sunday," the source told RadarOnline.com.
Meanwhile, Spelling has been busy promoting her ABC Family Show, Mystery Girls, with 90210 pal, Jennie Garth.
"Tori is committed to the show," the insider said. "This is the first time in years she has had a regular acting job that didn't involve reality television! The kids are well cared for right now, and she just moving forward. If the marriage works out with Dean, it will, but Tori knows if it ends, she will survive it."