Exclusive
It's War! Teresa Giudice Feels 'Betrayed' By Andy Cohen's Jokes About Her Trial — Will She Be A 'WWHL' No-Show?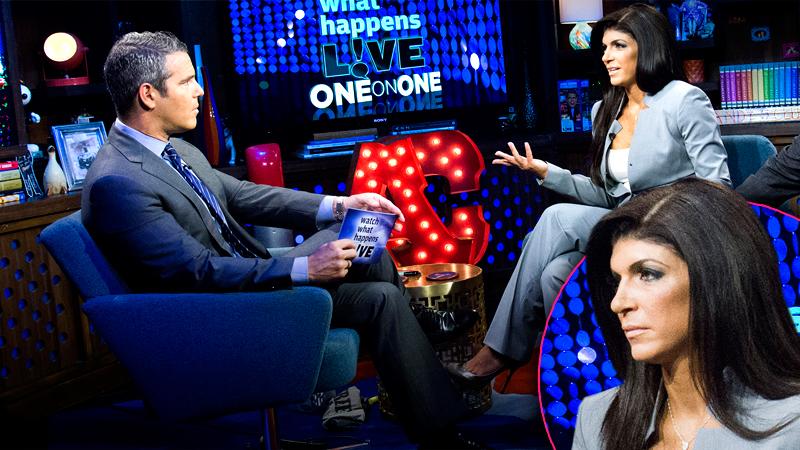 Teresa Giudice and Andy Cohen have gone from Bravo BFFs to frenemies over his handling of her legal issues, and now RadarOnline.com has learned that the Real Housewives of New Jersey star feels so "betrayed," she doesn't want to appear on his show!
Giudice is scheduled to appear on Watch What Happens Live with Cohen Sunday night. But earlier this week, she was stunned when he spoke out to mock the ongoing fall-out from her fraud case.
Article continues below advertisement
Tuesday night, Cohen discussed her drama with Watch What Happens Live guests Kelly Ripa and Anderson Cooper, saying the Giudices "didn't get out of jail by being on the Housewives of New Jersey … They are going to have to do whatever time they do."
RadarOnline.com has learned that days later, on Thursday night, Giudice was overheard sobbing on the phone about the remarks during a promotional event for her Fabellini wine in New York City.
Those comments "pushed Teresa over the edge," an insider told RadarOnline.com. "She felt so betrayed by Andy."
"She and Joe haven't even been sentenced yet, and it's not a given that Teresa will be sentenced to prison at all," the source said.
"She just would prefer that Andy not make any comments about the sentencing, because she doesn't want to do anything that could impact what the punishment will be," the source continued. "It's one thing for the legal proceedings to play out on the show, but Andy isn't a lawyer, and shouldn't discuss things he knows nothing about."
Article continues below advertisement
But despite her shock at his comments, Giudice "will honor her commitment to appear on Andy's show Sunday night," the source confirmed. "No one can ever say that Teresa isn't professional​. She hopes not to discuss the sentencing, and instead focus on the show, and other projects and charities she is supporting."
Cohen defended airing the Giudice's legal woes as a continuation of the journey viewers have been taking with the family for more than five years, since the show's 2009 premiere.
"We're now still following them and we're seeing what life is like after you plead guilty . . . it's a continuation of seeing what's going on in the lives of these people," he said.
Both Joe and Teresa face extended time in custody — 47 and 27 months, respectively — when they're sentenced on September 23.
Watch What Happens Live airs Sunday thru Thursday at 11/10 on Bravo.