'KUWTK' Recap: Troubled Rob Kardashian Is Mysteriously MIA On Family Trip To Thailand; Kim Pouts, Cries & Takes Sexy Selfies!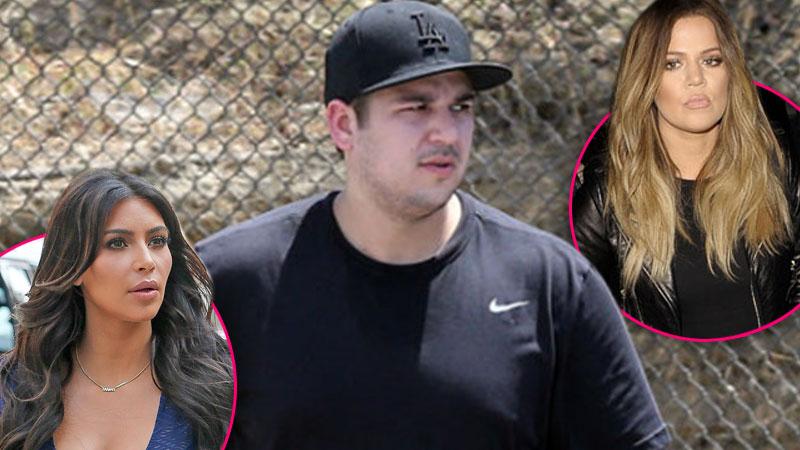 Article continues below advertisement
As RadarOnline.com has previously reported, sources said the Kardashian clan has been looking into rehab facilities for Rob after he was linked to marijuana and the codeine-packed drug Sizzurp.
But on the Sunday E! scenes, fans saw how Rob failed to show up at the airport for a trip to Thailand with his family. The Kardashians and Jenners took off without him, and later, Rob didn't even respond to sister Khloé's desperate phone calls from the country. Just like Khloé couldn't reach Odom towards the end of their marriage, she fruitlessly texted and called her brother.
Kim took a different stance, saying that the family had babied Rob.
Matriarch Kris Jenner was skeptical from the get-go that Rob would actually go on the family vacation, but Khloé insisted that he was excited about it.
Still, the loyal sister sighed to the cameras, "Rob has deeper issues than just weight. Rob was very close to Lamar and very attached to him and I think Rob has taken a very big hit with my divorce.
Article continues below advertisement
"I feel responsible for a lot of Rob's issues and I feel it's my job to lift him back up."
Khloé, who had moved in with Rob after leaving the home she'd shared with Odom, said they had a special bond, being close in age.
But Rob was MIA at the airport and they all jetted to Thailand without him.
"I don't know where he is. I feel helpless," concerned Khloé said, adding that she doesn't want to disappoint the others by abandoning the trip to hunt for him.
Later, Khloé called Rob from their Thailand resort and got his voice mail.
"Doesn't he like us anymore?" Bruce Jenner asked Khloé of his stepson.
Khloé said he had issues but Kim suddenly chimed in, "We've all been here to offer him help, but he won't take it so I don't have sympathy."
Kim told the cameras that Khloé wanted to fix the situation "but she can't.
"I think I'm just a little bit more of the tough love kind of person — my personality is like, 'All right, you complain, you don't like it, get up and do something about it.'"
Article continues below advertisement
When Mama Kris pointed out Rob wasn't in a strong place, Kim replied, "Yeah, but I also think that you baby him; I think we all have."
Kim complained, "He just wants us to do everything for him."
Khloé protested to the cameras that Kim didn't have experience dealing with someone like Rob, and tough love is easier said than done.
Another big KUWTK plot Sunday involved Kris confiding to Kim that traveling with estranged husband Bruce was causing her anxiety. He wanted to be very active on the trip, while Kris longed to relax.
Kim suggested she invite Bruce's sons Brody and Brandon Jenner (and Brandon's wife Leah) on the Thailand vacation to keep Bruce busy, a scheme the Momager enthusiastically pursued.
The former decathlete dragged the gang to zip-lining in Thailand but Kim chickened out and started to cry, "I don't want to do it!" (So she didn't.)
Watch the video on RadarOnline.com:
youtube
Kris and Bruce bickered after zip-lining, as the duo caused them to get all tangled up, and later he thought she should chill out instead of getting upset when their van driver rear ended another vehicle.
Article continues below advertisement
Bruce told Kris they'd go on a canoe trip next, but she said she just wanted to get a massage.
"He is driving me crazy," Kris told the group over dinner about Bruce's schedule.
Kris then revealed her plan had been to have Brody and Brandon distract Bruce, which shocked her stepsons — and everyone at the table.
The momager walked away, sarcastically saying she had to get ready for another busy day with the former Olympian.
"He's making us do stuff we don't want to do," Kris said.
Kendall called her mom a liar and Kylie was also furious with her.
"Now they think I'm lying and being shady," Kris sighed.
Also on KUWTK, Kim announced her famous Vogue shoot to the family.
Kim told the cameras about editor Anna Wintour, "She's probably the most powerful woman in fashion.
"It was just like when you're a little girl and you have this fairy tale of being this princess."
Article continues below advertisement
As Kim recalled trying on a rhinestone wedding gown for the Vogue shoot, Khloé laughed, "Remember when Kim did Canine Magazine?"
Kris ordered Kim's sisters to say congratulations, but they were unimpressed.
"My sisters' reaction is so disappointing" Kim fumed. "This is such a big deal for me, and they could care less."
Later, Kim confided to Khloé of Kanye's Vogue lust, "He's over the moon because there's only been five guys on the cover.
"We just create controversy."
Meanwhile, Kanye was in Germany and not able to come on the trip, so Kim decided to make the ultimate selfie book for her husband, taking sexy shots of herself all over Thailand -- or ordering her assistant to do so.
"Instead of being in the moment, Kim is taking selfies," Khloé whined.
Later, Brody accidentally walked in on Kim's racy selfie show, seeing her naked body through a sheer dress!
Watch the video on RadarOnline.com:
youtube
Brody laughed to Brandon and Leah that Kim had her "a** out" and "t*ts coming through the top."
He admitted the sight of his stepsister got him excited: "Maybe just a half-chub."