Exclusive
Teresa Beware! Friends Warn Giudice That Dina Manzo Is Using Her To Secure Her Spot On 'RHONJ' — Source Claims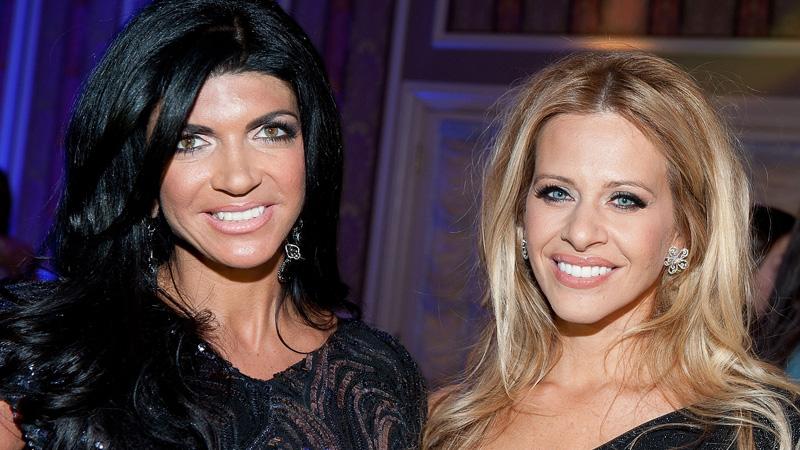 As legally troubled Teresa Giudice's life hangs in the balance weeks before her fraud sentencing, the Real Housewives of New Jersey star has found comfort in her rekindled friendship with co-star Dina Manzo. But RadarOnline.com has learned that their relationship could be yet another source of trouble for the struggling reality star — because according to an insider, Caroline Manzo's little sister has ulterior motives, and doesn't have the best intentions when it comes to her friendship with the potential jail bird!
Article continues below advertisement
"As viewers of the Real Housewives of New Jersey know, Teresa and Dina are very close," the insider explained. "Dina has cozied up to Teresa as she deals with her looming prison sentence and the possibility of her husband, Joe, being deported."
But off-screen, said the source, "Teresa has been warned by their mutual friends to be very careful as far as Dina is concerned because she has ulterior motives. … Namely, using Teresa to become a central part of the show, and replacing her sister Caroline as the voice of reason among the cast."
"It's just sad for Teresa because she really is a very trustworthy person, and doesn't want to believe that Dina would use her, or betray her trust in any way," the show insider said.
Meanwhile, Dina is also contending with her ongoing feud with big sis Caroline. Estranged for years, the sisters have not been photographed together in public since 2010!
The family drama "breaks my heart," Dina tweeted Monday night. "I have always kept my mouth shut."
Article continues below advertisement
When a fan tweeted that she had "done a great job at keeping your issues private," Dina responded, "I'm trying! I adore my parents."
Dina and Caroline's rift first began back in 2011, when she admitted, "Feelings did get hurt" because of a private spat.
Such baggage should be a major red flag for Giudice, according to the source.
"All of this drama is the last thing that Teresa needs at this time," the source said.
"And it doesn't help that newest cast member, Amber Marchese's husband, Jim, has been ranting and raving on the show that he is friends with the attorney general prosecuting Teresa's case," the source continued. " t's not even the Attorney General who is handling Teresa and Joe's case, and there is absolutely no proof that Jim is pals with the United States Attorney who is handling it."