Exclusive
So 'Arrogant!' Kim Kardashian Brags About Success As A 'Working Mom,' But Has Full-Time Staff Consisting Of 2 Nannies, Assisstants, Maids & More — INSIDE Her Big Lie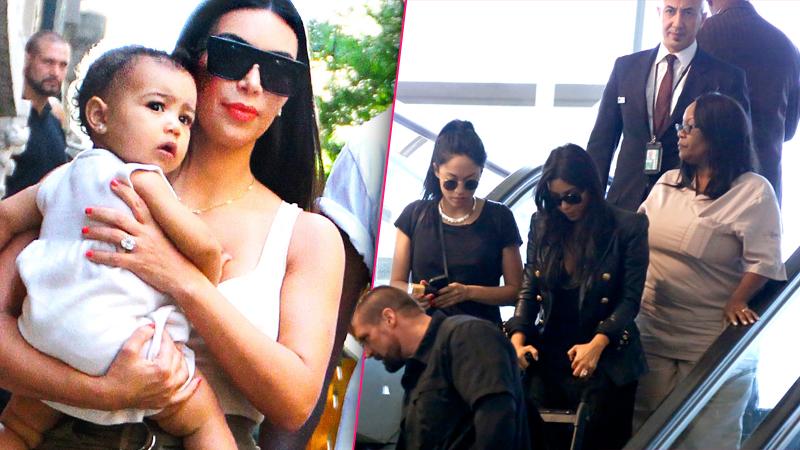 Kim Kardashian is Mom of the Year — according to Kim Kardashian. The reality star recently bragged about her successes as a working mom in an interview with CNBC, slamming PEPSI CEO Indra K. Nooyi for saying that women can't have it all. But RadarOnline.com has learned that if Kardashian does have it all, it's because she has a full-time staff! Two nannies, a personal chef, assistants and more — only Radar has all the details of the many men and women making life as a mom easy for Kardashian.
Article continues below advertisement
Kardashian's bragging bout began after Pepsi CEO Nooyi recently said said,"I don't think women can have it all. I just don't think so. We pretend we have it all. We pretend we can have it all. You know, my husband and I married for 34 years and we have two daughters. But if you ask our daughters, I'm not so sure they will say I've been a good mom. I'm not sure."
Kardashian hit back in an interview with CNBC, saying Nooyi's viewpoint wasn't "a really positive one."
"My mom kind of taught us girls we could have it all, you know, she works hard," Kardashian said. "She taught us that if you work hard, it's just all about prioritizing."
"It could get tough after you have a baby," she admitted. "There (have been) so many times when I just didn't want to get up and work on something, I just wanted to be home with my baby, but for me, I think I can speak for my sisters, it makes us feel good when we are out working."
Article continues below advertisement
"I feel like it's a little bit discouraging to say what Nooyi said.​ Even if I couldn't and it wasn't possible, I would try," she insisted. "And I would, you know, try my best to do it all."
But Radar has learned she's hardly the only person putting in an effort to raise baby North and keep her life in order.
According to an insider, Kardashian and West's baby daughter has two nannies — one daytime, one at night — as well as a bodyguard. Meanwhile, the source claims, Kardashian has a personal assistant, and often uses West's two personal staffers as well.
​
In addition, the source said, "Wherever Kim travels, her luggage is shipped ahead of time and unpacked for her at destination. If North is traveling with her, all of her baby stuff is also sent ahead and unpacked. Kim never has to lift a finger to do anything!"
"Furthermore, Kim brazenly uses the crew of Keeping Up With The Kardashians to run her personal errands," the source said, "buying clothes for filming, props, etc."
Article continues below advertisement
Living with momager Kris Jenner also gives Kim added help of having her mom's staff of more than five people at her beck and call, according to the source, including a personal chef, two housekeepers, and security.
"The house is overrun with Kim, Kanye, and Kris' staff members!" the source said. "There are more employees than family in the house. It's Grand Central Station, and Kim loves not having to lift a finger. For Kim to say working women can have it all is very arrogant, without acknowledging all of the help she has."
Several months ago, Gwyneth Paltrow also came under heavy scrutiny after saying her job as a working actress was harder than having an office job.
"I think it's different when you have an office job, because it's routine and, you know, you can do all the stuff in the morning and then you come home in the evening," Paltrow claimed. "When you're shooting a movie, they're like, 'We need you to go to Wisconsin for two weeks,' and then you work 14 hours a day and that part of it is very difficult. I think to have a regular job and be a mom is not as, of course there are challenges, but it's not like being on set."
Sound off in the comment section below, do you think Kim Kardashian's comments are out of touch with reality?