Too Crooked For TV? Danielle Staub Slams Bravo For Airing Teresa Giudice Legal Drama — 'Appalled' They're Giving Airtime To A 'Felon'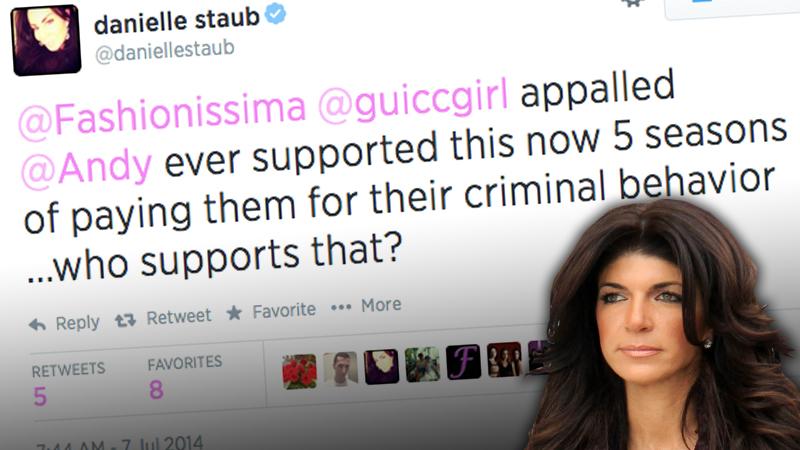 More than five years after the table flip heard round the world, it seems Danielle Staub still resents being called a "prostitution whore" by Teresa Giudice. As her former frenemy prepares for her fraud sentencing, Staub took to Twitter this week to slam Bravo for giving Giudice airtime and a fat paycheck, insisting she was "appalled" to see the network exploit her legal dramas on air.
On July 7, Staub wrote that she was "appalled Andy Cohen ever supported this now 5 seasons of paying them for their criminal behavior … who supports that?"
Article continues below advertisement
She also retweeted messages from fans accusing the Giudices of having "robbed banks with a pen," and being "disgusting." One fan wrote, "They are convinced that 50 counts of fraud is sic fine bc they are on TV"
And when one fan wrote, "We need to change sentencing guidelines for felons like Teresa & her husband. She should not get probation for $13.5 fraud," Staub responded, "that number seems low for over 40 counts of fraud."
Staub also pointed out the irony of the fact that Giudice notoriously gave her trouble for her shady past when she was "a felon at that time."
Of course, Staub doesn't exactly have a spotless record herself. According to court records she was charged with one felony count and convicted of extortion and was sentenced to drug treatment and weekly urinalysis tests for six months. That drug aftercare sentence was later extended.
Staub's past formed the foundation of Season One of RHONJ, but now that she's long gone, Giudice is bringing the drama.
As RadarOnline.com has reported, her legal issues will take up much of the show's first episode when it premieres Sunday night.
Do you think Bravo should keep Teresa off air until her legal issues are cleared up? Let us know in the comments!