Exclusive
Racism Run Rampant? NYC Hot Spot 1OAK Accused Of Banning Black Women From Club — 'He Let My White Friend In,' Claims Source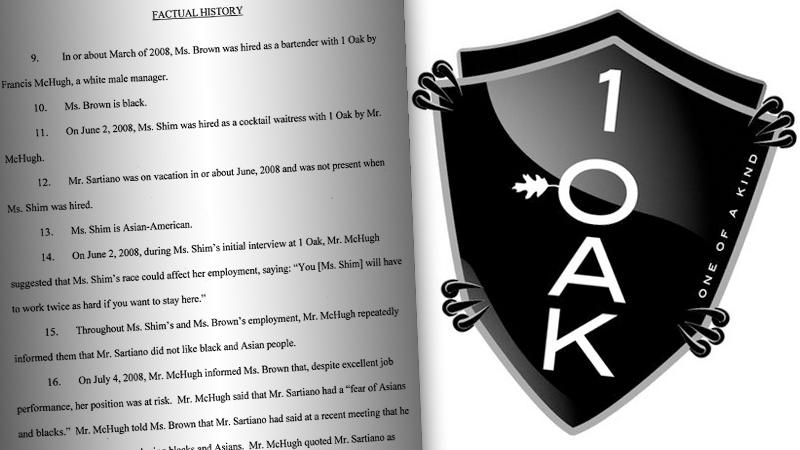 New York City nightclub 1 OAK has played host to Lindsay Lohan, Miley Cyrus, Justin Bieber and countless other celebs. But now, an African American woman has come forward to RadarOnline.com to claim that she was made to feel unwelcome at the luxe hotspot — and she believes her race is the reason.
The woman, a former Stanford student-athlete who wishes to remain anonymous, told RadarOnline.com she was denied entry during a visit to the club on Saturday, July 26.
Article continues below advertisement
"I know a promoter and he brought me and two of my friends (one white and one black) to the front of the 1Oak line along with about 10 other (white) girls," she told RadarOnline.com. "We all show IDs, and the bouncer starts letting girls in. He lets my white friend in and closes the stanchion right at me."
"I assumed they were at capacity, or were waiting for people to leave to make space," the woman said. "The bouncer then says to me and my black friend, 'Sorry ladies, not gonna happen tonight.'"
"We continue to stand there for a couple minutes, slightly confused," she said. "And then he opens the other side of the stanchion and proceeds to let in the rest of the white girls in our big group."
"We got out of line because we started to realize what was going on, and proceeded to watch him let in dozens of white girls," the source said. "Some with purple and orange hair, some with flats on, and some severely underdressed for a club … But anyone and everyone was Caucasian."
MORE ON:
Celebrity Justice
Article continues below advertisement
This isn't the first time that accusations of racism have been leveled at the club.
In 2008 , the Chelsea hot spot was sued by two former employees alleging they were terminated because of their race.
The lawsuit alleged that 1 OAK co-owner Scott Sortiano "did not like black and Asian people, and Mr. Sartiano had a fear of Asians and blacks."
Furthermore, within the span of less than a week in 2008, the club allegedly "fired all four of its black or Asian employees who worked on the floor serving drinks."
The club denied the allegations and the lawsuit was ultimately dismissed with prejudice in 2009.
A rep for the club told RadarOnline.com, "Anyone who has been a patron at 1 OAK knows that the club — which has venues in NYC, Vegas, Los Angeles and Mexico City — is anything but racist. 1 OAK does, however, have a strict door policy that sees many men and women of many ethnicities get turned down nightly, as entry is strictly at the doorman's discretion. Anyone who has ever been inside of 1 OAK would know that its clientele is a mixture from every sex, race, nationality and profession. While we take all accusations seriously, calling 1 OAK 'racist' is clearly a severe case of sour grapes from someone who has never seen the inside of 1 OAK. "