Exclusive
Miley Cyrus & E.J. Johnson -- Underage Clubbin' With Lindsay Lohan In New York City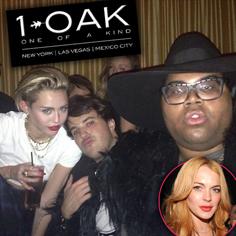 Lindsay Lohan has returned to the scene of crime — New York's 1OAK nightclub — the same venue where she met a 25-year-old man in 2012 who she later claimed assaulted her inside her Manhattan hotel room.
The rehabbed starlet, who is insisting she is still sober after her sixth stint in treatment, was spotted inside the VIP room of the popular Chelsea venue, multiple partygoers have confirmed to RadarOnline.com.
Article continues below advertisement
But that's only half the drama.
Lohan was there with Miley Cyrus and Earvin Johnson III, known as E.J., the son of basketball great Magic Johnson.
Both Miley and Earvin, 20, are underage.
That's an issue because RadarOnline.com has confirmed the age requirements at 1OAK which is an overage venue.
"Miley and EJ were at 1OAK… Miley was drinking alcohol in the club," one eyewitness confirmed.
"Lindsay Lohan was at a nearby table and came running over to Miley's table. The girls started giggling and whispering. They made several trips to the bathroom together and then left out a back exit, so they wouldnt be spotted by the paparazzi."
Miley and Earvin didn't seem phased at being at the club underage: They even posed for a photo with a friend, Andrew Warren.
Though our source didn't know if Lohan, 27, had been drinking, those close to her have been insisting that she is indeed still on the wagon.
"First of all, I've never known Lindsay to ever, ever, ever have a glass of wine," the Mean Girls actress' dad Michael told RadarOnline.com last week after photos emerged of her appearing to lean toward a wine bottle.
Article continues below advertisement
It also emerged last week that she had behaved "insanely belligerent" — and got into a verbal fight with a worker — during an all-night kickback with pals at New York's Sing Sing Karaoke bar.
"Lindsay was chain-smoking" throughout the outing at the East Village pub, where she and her hangers-on primarily hung out in a private room, an insider spilled.
While LiLo was overheard saying she wasn't boozing, her entourage sure was: They drained a bottle of Jameson and reportedly left the room they were in a mess of empty liquor bottles and garbage.
At one point, Lohan pleaded with staff to keep the bar open after its' designated closing time, which led to a "disturbance."
On that occasion, conspicuous by his absence was The Canyons star's sober coach, Doug Caine.