Magic Johnson's Son E.J. Opens Up About Coming Out In First Interview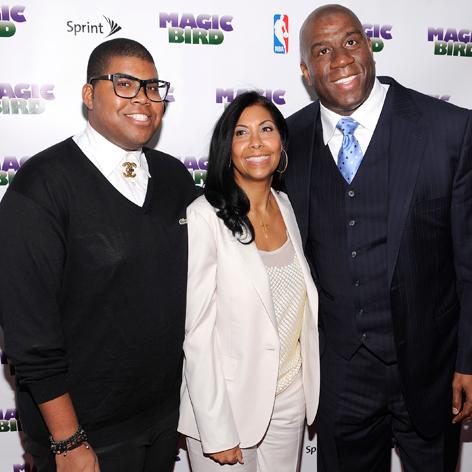 Earvin Johnson III, the 20-year-old son of NBA icon Magic Johnson, broke his silence about publicly revealing his sexuality after a website recently outed him as he was on the town in Los Angeles, Calif. with a pal.
Earvin (whose nickname is E.J.) told publicist Howard Bragman (on his show Gwissues) that he never had any intent to hide his sexuality, but wanted to come out publicly on his own terms.
Article continues below advertisement
"I always had dreams and plans of doing my own thing and creating my own image, so it came a little sooner than I thought it would but this is still something I knew I would be going through and would have to experience."
E.J. said he's been dumbfounded by some online outlets bashing his lifestyle.
"They'd say nasty things about me and what I'm doing … It's almost like they're attacking me for being me," he said, "and so to that I can only say, 'Well, I can only be myself, so I don't know really what you want me to do.'"
E.J., who's studying event management and design at New York University, said he came out to his family years ago, and received love and support from everyone.
Watch the video on RadarOnline.com
"I am very, very, very blessed to have the family that I do… when it was time to come out, I was, obviously, scared as most people are," the celebrity son said. "After I got all the love and support from my family then I knew I could go out and conquer the world, I guess."
Moving forward, E.J. said he aspires to be "the voice for young gay people who need someone to be on TV or wherever else to talk to them and talk about all kinds of issues that all of us face and not just homosexual issues but all kinds of issues."
"I definitely want to set a really good example."