U.S. Military Disgrace: 1,200 Hero Hounds Slaughtered After Serving In Combat Zones Because They're 'Deemed Too Dangerous'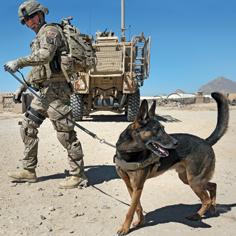 More than 1,200 military dogs that have protected U.S. troops in Afghanistan and other Middle Eastern countries have been killed by the U.S. government, The National ENQUIRER reports.
The hero hounds were euthanized after they were retired from service because they were deemed "too dangerous" for civilian adoption or jobs with law enforcement, according to U.S. Air Force reports given to Congress.
Animal lovers will be distraught to hear that 16 dogs were put down between 2001 and 2005 because "they were not wanted by anyone," the documents said.
Article continues below advertisement
But there is a silver lining. Once considered "military equipment," military dogs will now face better treatment from the people they serve thanks to legislation called Robby's Law. The landmark law set up an adoption program that gives military dog handlers first priority on adopting the four-legged heroes. The handlers will help their pups adjust into society.
Army Specialist Luke Andrukitis is a military dog handler who has benefitted from this legislation. Andrukitis found his bomb-sniffing Belgian Malinois that not only saved his life but also the lives of many others in Afghanistan during Andrukitis' nine-month deployment in 2013.
He was so upset by the euthanasia that he was moved to save the life of the dog that saved his own life. "(The euthanasia) is absolutely horrible!" he said. "They served their country just like we did."
The military maintains a force of about 2,500 dogs worldwide, but 1,000 of them are stationed at Lackland Air Force Base in San Antonio. So far about 400 of these service dogs are adopted every year, but many of them are still declared unsuitable for adoption because of their "repeated unprovoked aggressive action," Collen McGee, a spokeswoman for Lackland, told The ENQUIRER.
With so many dogs getting lost in the mountain of paperwork and political problems, potential adoptive parents are missing out on the pooches.
"We don't have dogs waiting for homes," McGee said to The ENQUIRER. "We have people waiting for dogs."