Usher Defends Justin Bieber Following Pop Brat's Racist Remarks, Calls Him A 'Naive Child' Turned 'Young Man'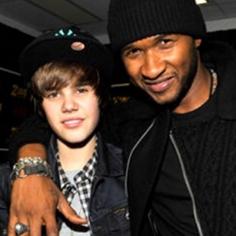 Justin Bieber's long-time mentor, Usher, is defending the pop brat after he was caught in two separate video clips using the n-word and making racist remarks.
The 35-year-old hip hop singer and The Voice coach posted an old photo of himself with Bieber, 20, on his Instagram account Saturday morning with a long message of support.
"At my core, I am a person that supports growth and understands without judgement, that growth often comes as a result of pain and continues effort," he wrote.
Article continues below advertisement
"As I have watched Justin Bieber navigate difficult waters as a young man, I can tell you that he hasn't always chosen the path of his greatest potential, but he is unequivocally not a racist."
As Radar previously reported, a clip of Bieber taken years ago popped last weekend in which the Canadian singer told a tasteless, racist joke.
"Why are black people afraid of chainsaws?" he asks an unidentified female friend in the tape, before continuing, "Run, n***er, n***er, n***er, n***er!" hysterically laughing at his own joke.
Bieber quickly made a public apology, but then a second video leaked online in which he sang a parody of his hit song "One Less Lonely Girl" replacing the word "girl" with the n-word, reportedly taken in 2009.
"What he was 5 years ago was a naive child who did not understand the negative power and degradation that comes from playing with racial slurs," Usher continued in his statement on June 7.
"What he is now is a young man faced with an opportunity to become his best self, an example to the millions of kids that follow him to not make the same mistakes."