Exclusive
Theresa Caputo Scandal Widens: Fellow Psychic Says If 'Long Island Medium' Is Using Prior Info For Readings That May Be 'Bordering On Criminal'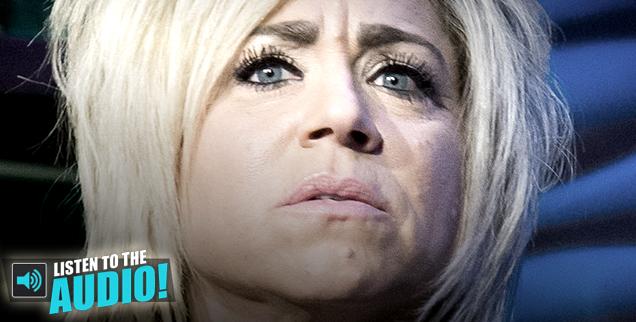 Article continues below advertisement
As Radar previously reported, one client of Caputo's claimed that she suspected the Long Island Medium could have been given information about her personal life before actually meeting her.
"If that's happening at all that is bordering on criminal," Past Life Reader Laura Lyn (www.angelreader.net) told the radio show about Caputo, whom she said she respects and called a "trailblazer."
"If there is any research that is happening prior to an event such as gallery style or a performance in a large audience that would hurt not only her credibility but also all mediums' credibility and all psychics' credibility."
However, Lyn said that she has faith in Caputo.
"I 100% do not believe that is happening. The reason I do not believe that is happening is her reputation to this point has been pretty darn good I would say.
Psychic medium Kerrie O'Connor (www.kerrieoconnor.com) told The Outer Limits of Inner Truth that she believes Caputo is now playing to her audience.
"She knows what the public wants and is pumped up from it. Part of her knows consciously that she is pushing the envelope with not being totally ethical with it. Especially if she has to save face.
Article continues below advertisement
"She's very well aware and she doesn't want to be in that position and she has to save face and so she does that piggy backing thing."
O'Connor also warned Caputo about her fame affecting her business.
"She's walking a fine line. The more she gets pulled into the Hollywood version of it the more she's not taping into her gift."
Psychic Medium Lisa Caza also spoke with the show and gave her opinion about Caputo's fall from grace.
"She's caught up into this as well. She's forgotten where she's come from and she's forgotten her human side. That's the ego she's got caught up into."
Listen to the audio clips from The Outer Limits of Inner Truth interviews with Psychic Mediums Lisa Caza and Kerrie O'Connor and Past Life Reader Laura Lyn to hear their expert opinions on the trouble Long Island Medium Theresa Caputo.
audio mp3="https://media.radaronline.com/brand-img/wp-content/0x0/2014/06/ol_long-island-medium-analysis_by-psychic-lisa-caza.mp3"/audio
audio mp3="https://media.radaronline.com/brand-img/wp-content/0x0/2014/06/ol_long-island-medium-analysis__psychic-laura-lyn.mp3"/audio
audio mp3="https://media.radaronline.com/brand-img/wp-content/0x0/2014/06/ol_long-island-medium-analysis__by-psychic-kerrie-o_connor.mp3"/audio
​