Exclusive
Real Housewife Or Matchmaker? 'RHOC' Star Danielle Gregorio Set Up Brother-In-Law With His Fiancée, Will Stand Up In Their Holiday Weekend Wedding!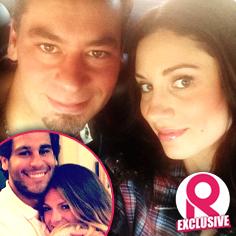 Article continues below advertisement
"Andy first saw Kelsey in 2008 on a friends Facebook picture. When he inquired about her, he was informed that she had a boyfriend. Fastforward two years . . .," the couple's wedding site says.
"Daneille, Andy's sister-in-law, met Kelsey via Tory Burch and thought Andy and Kelsey (now single) would be a perfect match. She introduced them and on December 22, 2010 they went on their first date."
Andy and Kelsey will marry at the Mary Star of the Sea Church in San Pedro, Calif. in a traditional Catholic ceremony and the reception will be held at the upscale Terranea Resort in Rancho Palos Verdes.
Danielle will stand alongside Kelsey as a bridesmaid and Joey will be a groomsman, while their two young children, Joey and Mackenzie will be a ring bearer and flower girl.
As Radar previously reported, since joining the Real Housewives of Orange County it's been revealed that her college education was grossly misrepresented.
As co-owner of Danielle Kaye Design Studio, Gregorio was described on the company's website as having "attended California State University, Fullerton graduating with a Degree in Business."
Article continues below advertisement
But Radar discovered that's not true — in fact, not even close.
In documents obtained from the National Student Clearinghouse, a database used for all degree and enrollment verification in education across the entire United States, using Gregorio's maiden name of Petrovic, it's verified that she attended California State University at Fullerton, but only for four and a half months.
When Radar reached out to Gregorio's rep we were told, "Danielle's business partner originally wrote the bio found on daniellekayeds.com and she was unaware at the time that Danielle had not completed her degree. The website has since been changed to reflect that."
Maybe she should stick to matchmaking.