Exclusive
Liar, Liar, Pants On Fire! Did New 'RHOC' Star Danielle Gregorio LIE About Having A College Degree? School Says She Only Attended For 4 Months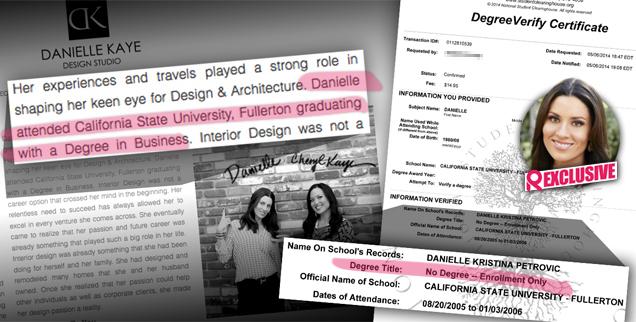 Drama and deceit are what makes for a great Real Housewife, so it looks likeDanielle Gregorio is going to fit right in to the controversial Bravo brand!
As a new castmember on the Real Housewives of Orange County, Gregorio fits the bill with a successful husband and three kids, one of which is from a previous relationship — but it looks like the interior designer's college education was grossly misrepresented and RadarOnline.com has exclusively busted her.
Article continues below advertisement
EXCLUSIVE DOCUMENTS: Proof That 'RHOC' Star Danielle Gregorio Lied About Having A College Degree
Co-owner of Danielle Kaye Design Studio, Gregorio was described on the company's website as having "attended California State University, Fullerton graduating with a Degree in Business."
But Radar has discovered that's not true — in fact, not even close.
In documents obtained from the National Student Clearinghouse, a database used for all degree and enrollment verification in education across the entire United States, using Gregorio's maiden name of Petrovic, it's verified that she attended California State University at Fullerton, but only for four and a half months.
The records confirm that the reality TV star attended the school "half time" from the dates of Aug. 20, 2005 until Jan. 3, 2006.
Furthermore, it's clearly stated: "No Degree — Enrollment Only"
When Radar reached out to Gregorio's rep we were told, "Danielle's business partner originally wrote the bio found on daniellekayeds.comand she was unaware at the time that Danielle had not completed her degree. The website has since been changed to reflect that."
Article continues below advertisement
However, Gregorio had previously posted on other sites like LinkedIn and her biography for when she sat on the board for the OC's branch of Heels2Heals that she graduated with a degree from Cal State Fullerton — all of which were changed in the hours after Radar reached out.
So were mistakes made across the board regarding Gregorio's eduction, or was it a scramble to correct once she was caught?
As Radar previously reported, as one of three new women on the hit Bravo show this season, Gregorio was desperate to make a splash — even if it meant selling out her own family.
"Danielle wants to be famous and is willing to go to great lengths to accomplish that. She said she is going to create sh*t to make the drama for the show," the insider told Radar.
"She even plans on bringing her dad on the show for a paternity test, which makes no sense really because there's no question about whether he's her father or not. It's just all a ploy to make drama and make herself a central character on the show. She doesn't even care if she's loved or hated."
Long-time Housewives star Tamra Barney was quick to express her distaste for the new member saying she's annoyed by Gregorio's "over-the-top need for attention."
"Danielle is basically planning to ruin her entire family's life for fame," the source previously told Radar.
"It's really, really sad. And it will undoubtedly backfire on her."
Do you think Danielle lied about having a college degree, or was it a miscommunication as she claims? Sound off in the comments below…