Spot Remover Please! Lindsay Lohan Has Decided 'To Have Her Freckles Bleached Or Lasered Off'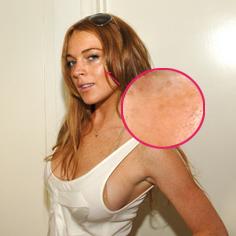 Lindsay Lohan has been slammed for her alleged plastic surgery, and now, she's decided to have her famous freckles bleached or lasered away, RadarOnline.com is exclusively reporting.
"Lindsay is known for trying new things, but she's shocked friends and family members by suddenly getting irate over her freckles," a source said.
"She's always loved her freckles – well, pretended to, anyway – but now she's decided it's time to get rid of them and she's looking into having them either bleached or lasered away," the source added.
Article continues below advertisement
When the Parent Trap star first started out as a child actress, redhead Lohan was known for her adorable freckles.
But since then, 27-year-old Lohan's looks have changed drastically, with plastic surgeon Dr. Anthony Youn, who hasn't treated the star, telling Radar in 2012 that her lips looked like "a pair of kielbasa."
And celebrity plastic surgeon Dr. Garth Fisher has said Lohan "looks like she has had an excessive amount of filler injected in her face," he says, adding, "I'm not a fan."
The sobriety-challenged party girl has also raised eyebrows at times by looking scary skinny.
Recently, Lohan has been seen frequenting nightclubs in London, with a source telling Radar that she's fallen "off the wagon."
The source said that strangely, the Freaky Friday actress' freckle-free move could be related to her partying: "It's bizarre, but it's exactly what happens when Lindsay starts going off the rails again – she wants more surgery or a total makeover because she's so miserable.
"But everyone's hoping she leaves her freckles alone as they're a trademark for her and she looks beautiful with them."