Exclusive
Abuse Of Power? 'Wolf Of The World Cup' Leonardo DiCaprio Calls In White House Favor To Make Soccer Opener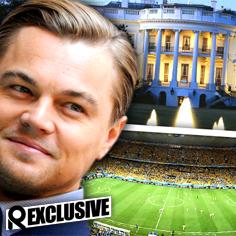 He may be the Wolf of Wall Street but Leonardo DiCaprio almost didn't make it to Brazil in time for the opening of the World Cup, if not for some help from the White House.
DiCaprio, 39, had plans to attend the sporting match with friends including best buds Lukas Haas, Vincent Laresca, Jonah Johnson and Milano Jonah Sanchez — but the group's passports were delayed from the Brazilian Consulate in New York City, and at one point it looked like the party wouldn't have them back in time to fly on a private plane to Sao Paulo on June 10th.
Article continues below advertisement
"When they finally received word their passports with their Visa's approved to enter Brazil could be collected, the consulate was closed so someone had to open it up after hours for them," the source added.
DiCaprio arrived in Brazil in time to see the host nation take on Croatia at the Arena Corinthians in Sao Paulo, but quickly turned his attention to his favorite hobby and the real reason he was in South America — partying.
Article continues below advertisement
"All the guys went to the World Cup opening in Sao Paulo, but they had to leave right after it was finished because the yacht... was waiting for them in Rio," the insider continued.
"The group was worried about security so they didn't anchor the Yacht on the marina. There were no helicopters or private planes allowed to fly at that time so they took a bus to Rio."
A wealthy friend of the groups had rented a 482-foot Topaz which is the fifth largest superyacht in the world in the hope it would attract a bevy of babes for his buddies, but our insider says the group didn't score.
"All the fabulous people, celebrities and jetsetters went to after parties in Sao Paulo, no one went to Rio, so all these reports that Leo had 50 girls partying with him is not true, because the girls didn't want to go to Rio," the source added.
"With all the money, good looks and fame they could only manage five mediocre looking girls at the Pasha party in Buzios, which is a town next to Rio."