Who Says Nothing's Free? Penny-Pinching Habits Of 'Freeloader' Kardashian Family — & Their Miser Producers — Have Locals Furious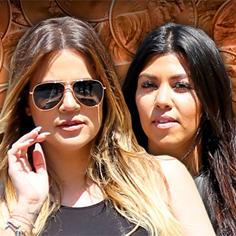 The cash-flush Kardashian family continues to curry resentment and bitterness in the Hamptons, over the comped lifestyle they and their producers have been privy to while cameras roll this summer on Kourtney & Khloé Take the Hamptons.
In the latest "What nerve!" tidbit floating from the ritzy seaside New York enclave, the NY Post reports that a pair of producers with the show "refused to pay" a gym fee at the Amagansett location of Barry's Bootcamp, promising that "they were going to bring Kim in to workout" — a gesture that would likely bring the establishment thousands in free publicity — in lieu of payment.
Article continues below advertisement
One insider told the paper, in reference to the E! circus, "These freeloaders are p*ssing hardworking people off."
A publicist for the gym told the paper that the producers did not insist on the freebie, but rather, were their invited guests.
"We have a really good relationship with Kim and her team," the rep said.
As we previously reported, the family and their producers have rubbed locals the wrong way on numerous occasions, including Kourtney Kardashian's purported stiffing of a food server; their insistence fellow diners at a restaurant sign release forms as they were filming for the show; and their controversial deal with a landlord that got them a summer of free rent, estimated at up to $60,000, for their DASH boutique.
Upon the news they would be filing there, Hamptonites were said to be have been "up in arms about … the hassle of the entourage, the cameras, the paparazzi and all the fanfare that comes with this attention-seeking family."