Million Dollar Miser? Kourtney Kardashian Stiffs Hamptons Server On Tip After Meal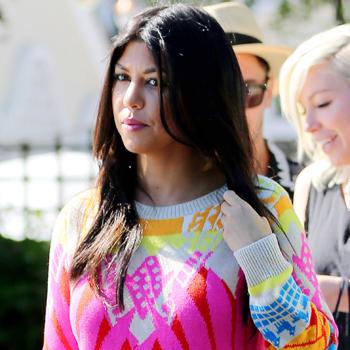 The hostility toward the Kardashians continues to rise in the Hamptons, as Kourtney Kardashian, in the area to
film the E! spinoff Kourtney & Khloé Take the Hamptons, annoyed food servers at a local establishment after failing to leave a
tip after an already-comped meal.
"Local servers are hard-working people who support their families and live on tips," a server at the establishment, The Driver's Seat, griped
Article continues below advertisement
to the NY Post over the chintzy faux pas, though a rep for the family insists that the servers were compensated for their efforts, albeit not by the eldest Kardashian sister herself.
"The meal was comped," the rep said, "and production left a generous tip."
In another dining-related debacle, the sister's meal at the Southampton Social Club also caused something of a brouhaha, after a source told the paper that "other diners around them were asked to sign releases, which did not go over well."
The Kardashian rep denied that the well-heeled Hamptonites were put-off by the camera crews, adding that "no one had a problem signing the release forms."
The cash-flush family raised eyebrows earlier after a local landlord (with a next-door eatery) agreed to let them operate their DASH boutique rent-free for the duration of the summer.
"They didn't want to pay the $30,000 to $60,000 rent charged at most Hamptons stores," a source told the paper, "so they agreed to shoot episodes of the show in the restaurant."
As we previously reported, the area's wealthy residents have been "up in arms about" the sisters invading their territory, so to speak, as they're apprehensive about "the hassle of the entourage, the cameras, the paparazzi and all the fanfare that comes with this attention-seeking family."