Exclusive
Horror In The Hamptons! Khloé & Kourtney Kardashians 'Ticking People Off' With Reality Show Frenzy In Exclusive Beach Town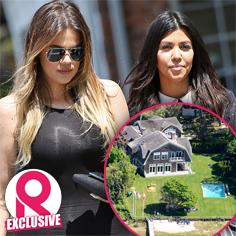 Article continues below advertisement
"Originally nobody was renting to them. Now they're living in a house in North Sea and it is not at all prestigious. Nobody goes up that way," the source sniffed at their less than desirable rental location.
But even though it's not on the toniest of beaches, the rental home is still causing an uproar in the Hamptons as the sisters film Kourtney & Khloé Take the Hamptons.
"That rental house is ticking people off," the source told Radar.
"That's the road to Sag Harbor and it used to be a short cut. Now it's going to be a traffic mess. Everybody is worried about all the paparazzi who are going to come follow these people and they don't want them here."
The source slammed the Kardashian sisters for their "do nothing" lifestyle, even on a summer vacation reality show shoot.
"All they're doing is shopping, taking selfies and signing autographs. It's so undignified. It isn't what people in the Hamptons usually do but that's all the Kardashian do."