Keeping Up With The Profits? Despite Squawking Locals, Kardashians Might Be Helping Hamptons Economy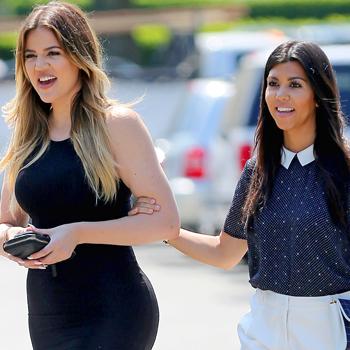 Between endless gripes over their comped lifestyle and three-ring circus they bring, the Kardashian family's summer in the Hamptons has undoubtedly become a rocky road so far, but the family might be having a Midas effect on the well-heeled seaside enclave just the same.
The NY Post reports that the family, filming Kourtney & Khloé Take the Hamptons this summer, is getting some credit from the Southampton Chamber of Commerce for helping boost tourism and business in the area.
Article continues below advertisement
"I do know that we have had some people come to the Village just to see them," Southampton Village Mayor Mark Epley, "and that does have a positive effect."
Despite helping put some of the area's establishments in the black, Epley said Hamptonites still haven't completely warmed to the idea of playing host to the first family of reality TV, or the camera crews and paps who trail them.
PHOTOS: 15 Kardashians Fights: They're Sisters . . . But Not Always Friends
"I am still getting comments, some negative and some positive," he said, expressing some reluctance at the idea that the uptick in fortune is due to their presence.
"I disagree that business has increased solely due to them — business has increased, but mostly because we have had good weather and a strong economy," he said. "We had a new market open in the heart of the Village, which statistically increases revenue to nearby businesses by 30 percent, and a couple of nice stores such as Ralph Lauren's Monte Carlo Collection have opened that are well priced and attract customers."
As we previously reported, locals were said to be "up in arms about . . . the hassle of the entourage, the cameras, the paparazzi and all the fanfare that comes with this attention-seeking family" after news broke that E!'s cameras would be rolling there this summer.
A number of incidents put off locals to the family and their production team, including Kourtney Kardashian's purported lack of a tip at a restaurant; their insistence fellow diners at the restaurant sign release forms as to be filmed for the show; and their controversial deal with a landlord that got them a summer of free rent, estimated at up to $60,000, for their DASH boutique.