Would Selena Approve? A Solo Justin Bieber Exchanges Numbers With Sexy Model Amber Rose In L.A. Club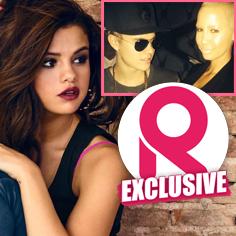 Article continues below advertisement
"Justin walked over to Amber's private table and they began chatting," an onlooker tells Radar of the pair's party run-in. "They talked for more than 15 minutes- and even exchanged numbers. She was smiling and laughing."
At one point, the source continues, the two posed for pics, which both later posted on Instagram.
Though Rose is married to rapper Wiz Khalifa, Gomez has proven she isn't cool with other women contacting her man- As Radar exclusively reported, the starlet flipped when she found texts from former friend Kyle Jenner, 16, on Bieber's phone in April.