Exclusive
Selena Gomez Dumps Pals Kylie & Kendall Jenner After Finding Shocking Texts On Boyfriend Justin Bieber's Phone!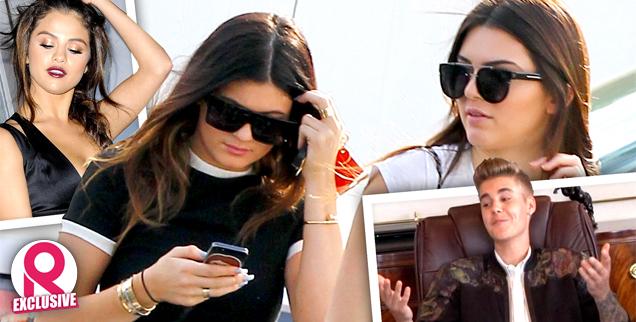 After a cozy two weekends in Coachella, Selena Gomez erased Instagram party photos with best gal pals Kylie and Kendall Jenner — and now RadarOnline.com can exclusively report why.
During the festival, the Come And Get It singer, 21, discovered shocking text messages and photos from Kylie, 16, on 20-year-old boyfriend Justin Bieber 's phone.
"Selena flipped out and there was a huge fight between the girls," an insider tells RadarOnline.com. "She now wants nothing to do with Kylie or Kendall."
Article continues below advertisement
"She was already getting bad vibes from Kylie— Selena thinks she parties way too hard."
The reality sisters weren't the only victims of Gomez's wrath.
"Selena was also furious at Justin," the insider adds. "They're not together right now."
And she may have already moved on: Gomez was spotted chatting up Orlando Bloom , 37, at comedienne Chelsea Handler's L.A. show on April 26.
After all, as RadarOnline.com previously reported, Gomez has been telling friends she's ready to date an older, mature man.
"She's grown tired of Justin's attention-grabbing antics," a source explains. "There could soon be a permanent breakup between the two."