Exclusive
Houston, We Have A Reunion! Bobbi Kristina Brown Mends Fences With Estranged Dad Bobby Brown — While Husband Nick Gordon Taunts Houston Family With Scary Gun Posts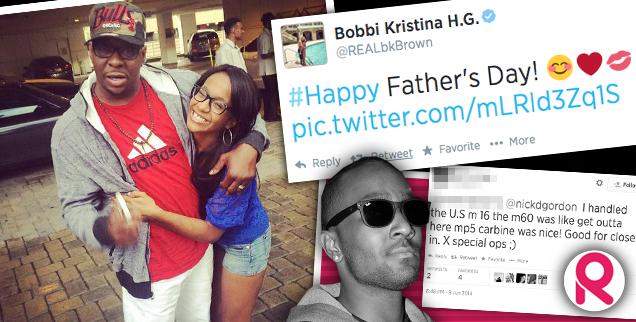 More than two years after Whitney Houston's passing, her daughter Bobbi Kristina Brown is rethinking her family ties. After feuding with her Houston relatives in recent weeks, the 21-year-old reunited with her estranged father Bobby Brown this past weekend, while her husband Nick Gordon continued posting the same kind of aggressive and gun-related posts that earned him a restraining order from Whitney's sister-in-law Pat Houston earlier this year.
Article continues below advertisement
"Happy Father's day! Out to dinner with daddy," Bobbi Kristina posted on twit pics that captured their reunion.
The pair had been estranged ever since Houston's passing, with Bobby even speaking out to slam his daughter's marriage to Gordon in January.
But since then, she and Gordon have been feuding more publicly with her relatives on the Houston side. In March, the deceased singer's sister-in-law Pat got a restraining order against Gordon, claiming she "feared for her safety after Gordon made threatening comments and posted photos of guns."
Gordon hasn't toned down his posts since, however, retweeting a post from a friend on June 8 bragging about M16 and M60 guns that are "Good for close in … special ops."
And on June 15, he posted a taunting message that read, "The greatest pleasure in life is doing what people say you cannot do."
Do you think Bobbi Kristina is better off having a relationship with her dad or the Houstons? Or both? Let us know in the comments!