'Honey Boo Boo' Fakery EXPOSED: Family Stages Daughter Anna's Shocking Move, Lies About Her Dramatic Engagement For Reality Show!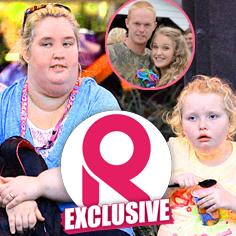 Article continues below advertisement
During an April interview with Radar, Anna, 19, admitted she left the Shannon-Thompson family's MacIntyle, George nest with daughter Kaitlyn, 23 months, to live with now-husband Michael Cardwell, 21, in nearby town Ivey the previous September.
"We moved in together seven months ago," Anna said, "but it wasn't filmed for the show."
However, on the June 19 episode, the family says goodbye to Anna and Kaitlyn in an emotional scene implied to have taken place long after the teen mom's December engagement.
Even Anna's emotional engagement on the hit series involved a lie.
During the season 3 finale, Caldwell proposes to Anna at a big New Year's Eve party— but a source says the couple actually got engaged nearly two weeks prior on December 19!
"They edited the scene to look like it happened on New Year's Eve," the insider tells Radar. "They wanted it to seem more dramatic."
As Radar exclusively reported, Anna and Cardwell said "I do" in a backyard southern ceremony on May 3— all captured by reality TV cameras, of course!