Exclusive
'Cancel Honey Boo Boo!' Fans Demand TLC Take Show Off The Air After Series Star's Bratty Behavior Revealed In Shocking Report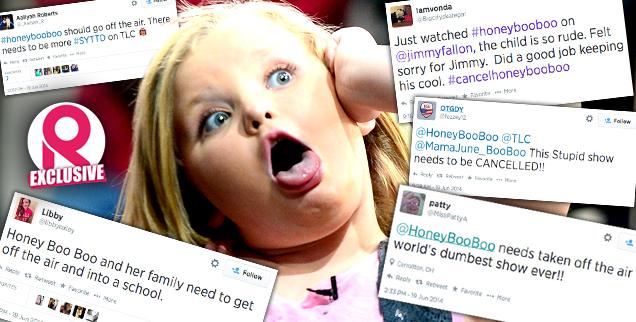 Article continues below advertisement
After the show aired, and a report of the behind-the-scenes drama made the rounds on Thursday, disgusted fans aired their discontent online.
PHOTOS: Toddlers & Tiaras' Fake 'Reality' Exposed
"Just watched #honeybooboo on @jimmyfallon, the child is so rude," @Bigcityskatepar wrote. "Felt sorry for Jimmy. Did a good job keeping his cool. #cancelhoneybooboo"
User @MissPattyA wrote, "@HoneyBooBoo needs to be taken off the air, world's dumbest show!"
User @Aaliyah_R agreed, "#honeybooboo should be taken off the air…"
And @fozzey12 wrote, "@HoneyBooBoo @TLC … This stupid show needs to be CANCELLED!"
This isn't the first time that fans have spoken out against the series. There are several Facebook groups founded long before the Fallon controversy calling for the series' cancellation, and there was even a Change.org petition demanding TLC "stop the airing of this show" back in 2012.
Will you watch this season? Let us know in the comments!