'Honey Boo Boo' Family Involved In Car Crash: 'It Was Really Scary For Us,' Says Mama June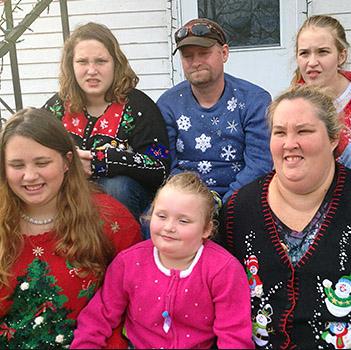 Honey Boo Boo's family was involved in a car crash on Monday night, RadarOnline.com has learned.
According to reports, Sugar Bear was in the driver's seat with Mama June, Pumpkin, Jessica "Chubbs" and Honey Boo Boo all as passengers in the vehicle when it was struck by a truck that allegedly ran a red light.
Sugar Bear was attempting to make a left-hand turn at a green light when the driver of the truck sped through the red.
Article continues below advertisement
Mama June exclusively tells RadarOnline.com, "As many of you have heard we were in a car accident last night. It was really scary for us, since it was the first time any of us had ever been in a wreck.
"We are definitely really sore today, but our top priority is to celebrate Pumpkin's birthday. She turned 14 today and no matter how sore we feel we are going to go out and celebrate. As always we want to thank everyone for their support and well wishes."
Family members of the hit TLC reality TV show were taken to the hospital by ambulance where Sugar Bear was reportedly treated for a contusion on his back, Mama June for back injuries, severe chest bruises on Pumpkin and Honey Boo Boo had a bad headache.
Stay with RadarOnline.com for future developments on their condition…