Exclusive
The Email Proof: 'Real Housewives Of Orange County' Producer Caught Trying To FAKE Scene With Tamra Barney's Ex-Husband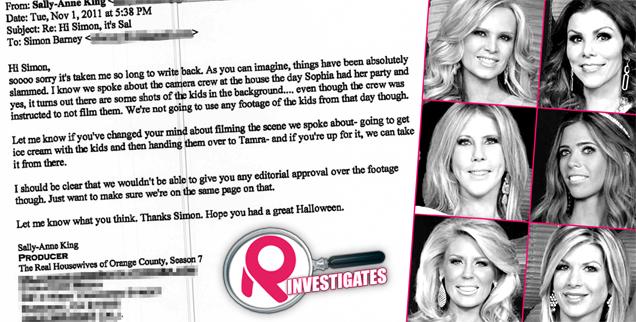 It's the smoking gun that proves once and for all that scenes on the Real Housewives are staged.
In an explosive email dated November 1, 2011, a producer for The Real Housewives of Orange County wrote to the ex-husband of star Tamra Barney to enquire about whether he was prepared to participate in a STAGED scene after the pair's bitter divorce.
"Let me know if you've changed your mind about filming the scene we spoke about — going to get ice crew with the kids and then handing them over to Tamra," producer Sally-Anne King shamelessly asked Simon Barney — a scene he refused to shoot.
Article continues below advertisement
Barney has refused, even threatening to seek a court injunction preventing the filming of his three kids.
Later in the missive, King warned Simon about their brazen set-up scene: "I should be clear that we wouldn't be able to give you any editorial approval over the footage though. Just want to make sure we're on the same page on that."
King works for the production company behind RHOC, Evolution Media.
Article continues below advertisement
RadarOnline.com's revelation about the incontrovertible email is the latest expose about the blurred the lines that exist between what's real and what's not on reality television.
As we previously reported, Tamra's costar Vicki Gunvalson was caught in a whopping lie earlier this year, when it emerged a scene from last season — during which her daughter supposedly revealed she'd got married in Las Vegas — was staged.
Gunvalson, 51, was shown on camera appearing to be "stunned" when her daughter Brianna Wolfsmith told her mother that she had secretly tied the knot with Ryan Culberson at a drive-through Las Vegas chapel.
But in reality, as leaked text messages obtained exclusively by RadarOnline.com revealed, Gunvalson was brazenly lying!
In a text message exchange between Gunvalson and her lover Brooks Ayers from 2011, provided to RadarOnline.com, she confessed that she was preparing to film that scene — even though she already knew her daughter was married!
Article continues below advertisement
"What are y'all filming," Ayers asked Gunvalson on November 2 at 1.40pm.
"Her telling me she's engaged/married," Gunvalson responded.
Ayers also inadvertently outed a episode as being phony, when he admitted to a Las Vegas court that his one-time lover negotiated her season eight contract to appear on the Bravo show to include her vodka product — scenes which coincidently appeared on the show.
In the wake of that revelation, Gunvalson insisted: "The show is real and I am always real. It is my reality."
They're not alone, in the OC, sadly.
Cast and crew for Jennifer Lopez's South Beach Tow were notoriously caught on camera doing what skeptical fans had long suggested, while Kim Kardashian once shot a scene with her momager Kris Jenner about wanting a divorce – after she had already filed!
Russell Jay, a producer on Keeping Up With the Kardashians, later testified under oath that there were at least two scenes that were "scripted, reshot or edited" to make Kardashian's ex-husband Kris Humphries look like the villain.