Exclusive
Vicki Gunvalson Hits Back At Claims That She Faked Scenes: 'The Show Is Real And I Am Always Real'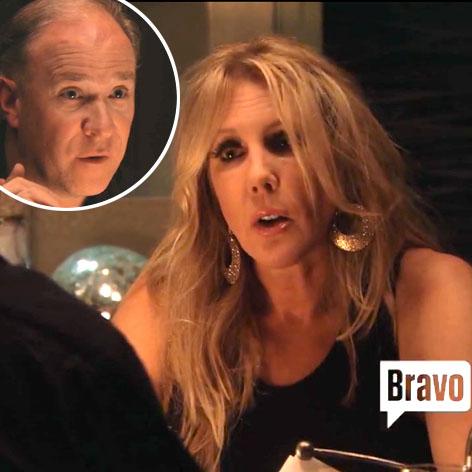 Vicki Gunvalson is hitting back at her ex-boyfriend Brooks Ayers' claims that she used her vodka to help stage scenes on her reality show, telling RadarOnline.com exclusively that "the show is real and I am always real."
"I am disappointed that someone would say something negative about the show," The Real Housewives of Orange County star exclusively told RadarOnline.com.
"I love the show. I love the producers, crew and cast. The show has been good to me – and it has been a true learning experience for me. The show is real and I am always real. It is my reality."
Article continues below advertisement
As RadarOnline.com previously reported, in a July 23 filing lodged in the United States District Court, Ayers revealed how he attended a meeting on June 3, 2012, in Las Vegas, during which Vicki "specifically agreed, represented and promised that Vicki would negotiate her season 8 contract (on the Real Housewives) to include VV (Vicki's Vodka) as part of the negotiations and product integration."
Vicki dismissed his claims, telling RadarOnline.com: "I was surprised to learn that my name was used in a response to the court concerning the vodka company."
She said that she is ignoring Brooks', saying: "I have not read the story nor do I want to."
Her ex-boyfriend is still being sued in a Las Vegas court alleging he committed fraud, breached contract, failed to live up to good faith dealings, misrepresented himself and conspired to unjustly enrich himself and Gunvalson.
Vicki was voluntarily dismissed from the lawsuit and told RadarOnline.com that her booze line is doing well.
Article continues below advertisement
"I am not in a dispute with Vicki's Vodka - and just recently my business partner appeared in NY with me on Watch What Happens Live showcasing our vodka line," she said.
"Vicki's Vodka is making very strong headway to achieve great success.
"I also love my company, Coto Insurance & Retirement Planning. Sometimes the show biz world slips over to my business world, which can be challenging. When that happens, it is ok for me, as I can handle that but it's not ok for my clients and my insurance company."
As a top employee in the company, Vicki said that her reputation is of utmost importance to her.
"I am a very serious business woman who takes pride in my ethics. I never take any success for granted," she said.
"Honesty and integrity mean everything to me."
The RHOC star is on vacation with her family, but she told RadarOnline.com that part of the trip was an award she won at work.
"I am currently in Greece with my daughter, Briana, and her son (my grandson), Troy, enjoying a wonderful family holiday. Excitedly, I was in the top 5 percent of Retirement Income Planning Advisors and I was rewarded a fabulous trip to Barcelona, Spain. Briana, Troy and I decided to go ahead of the trip and spend some time in Greece first before leaving soon to Spain. Everyone in Greece is so nice – and wow, so beautiful."
Article continues below advertisement
Vicki is the original star from the Real Housewives of Orange County and the only one left from the first season, and she says the whole experience has been fantastic.
"Looking back on my life since the show, I often say there is no guidebook on what to expect or even what to do when one is on a show. I have the greatest fans that anyone can ask for. I always take a moment every day to reflect and say thank you for my life.
"Life always comes with wonderful surprises."
Vicki even shared an encounter with a fan in France.
"The last time I was in Paris, I heard a tremendous yell all the way across the airport terminal - "Woo Hoo, we love you Vicki." Sometimes it's hard to believe that the show is aired in so many countries. When I do see people that recognize me, I always let them know I love them too."