The Gwyneth Paltrow Ridiculousness Continues: GOOPster Claims That 'Negativity Changes The Structure of Water'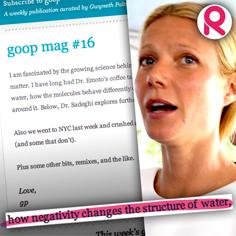 America's elitist sweetheart is at it again! Less than a week after comparing her daily struggles with Internet trolls to the "dehumanizing" experience of soldiers at war, Gwyneth Paltrow is claiming that negative words and sounds have the ability to hurt water's feelings. Yes, really.
On May 29, the actress took to her lifestyle website, GOOP, to discuss her longstanding fascination with Japanese scientist Masuro Emoto, whose experiments attempt to investigate whether human consciousness has a direct affect on the molecular structure of water. According to Dr. Hadid Sadeghi, also quoted in the GOOP post, "Emoto's experiments proved that energy generated by positive or negative words can actually change the physical structure of an object."
Article continues below advertisement
Always outspoken, Paltrow, 41, writes that she has long been "fascinated by the growing science behind the energy of consciousness and its effects on matter." She adds: "I have long had Dr. Emoto's coffee table book on how negativity changes the structure of water, how the molecules behave differently depending on the words or music being expressed around it."
Slammed for announcing her decision to "consciously uncouple" with husband Chris Martin on her website with the much-mocked phrase, Paltrow has received harsh backlash for many of her interesting statements over the years.
As RadarOnline.com previous reported, Paltrow came under fire a few months back when she said that parenting was "much harder" for Hollywood actresses than women who have regular office jobs. But are they changing the physical structure of water?
What do you think of Paltrow's latest outrageous comments? Sound off below!