GOOPS, She Did It Again! Gwyneth Paltrow Whines About Internet Haters, Compares Her Life To 'War'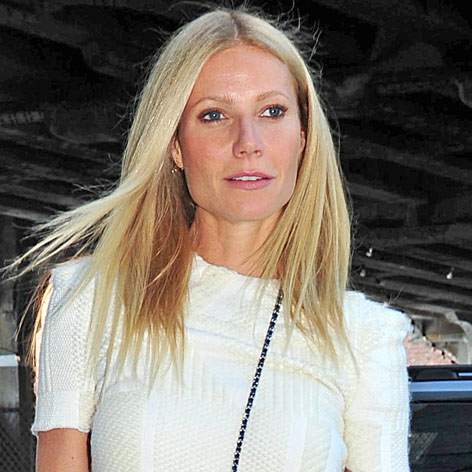 Gwyneth Paltrow can dish it out, but apparently she can't take it! The actress turned wannabe lifestyle guru has no problem giving advice to the world, but spoke out in a recent speech about how internet haters make life difficult for her and other celebrities — even comparing her glamorous life to "bloody" warfare!
The GOOP founder, 41, opened up at a speech at the first annual Code Conference, in which top digital technology influencers gathered to talk about the industry in Rancho Palos Verdes, Calif.
Article continues below advertisement
"It's like the scabs from your high-school wounds being ripped off on a daily basis," the actress said of living life in the public eye. "Celebrities, we've always gotten stones thrown at us and, you know, for good reason: We're annoying. Some of us look okay, we look like we have money, our lives seem great. That may or may not be the case … Nevertheless, we 'get' it. Or, at the very least, we expect that it's part and parcel to what we do."
"Anyone in any field who has their head rise above a poppy in the field, they get their heads chopped off," she continued. "It's our human nature to feel that way, and to do it. … Everybody takes sh*t, it's just the way it is."
In a separate interview with Re/code at the conference, Paltrow took her complaints even further, whining about how anonymity of the Internet is like being in war!
"You come across (online comments) about yourself and about your friends, and it's a very dehumanizing thing," Paltrow said. "It's almost like how, in war, you go through this bloody, dehumanizing thing … My hope is, as we get out of it, we'll reach the next level of conscience."
Article continues below advertisement
In her Code Conference talk, where she rubbed elbows with leaders of Microsoft and Google, Paltrow said a celebrity friend who posted a "normal photo" on Instagram received a comment from a user who wanted to "rape and disembowel" her.
And of course, Paltrow herself has faced online backlash for announcing her separation from husband Chris Martin on GOOP, calling it a "conscious uncoupling."
Recently, the star came under more fire on the net when mothers protested Paltrow claiming she had a harder schedule as an actress than a mom with more regular hours!
While she didn't get into specifics about her own internet haters at the conference, Paltrow got philosophical, saying, "At a certain point when you've been made fun of and excoriated and dragged through the mud ... for 20 years ... you realize it's not really about you."
Paltrow said she hopes her two children will be able to cope with the trolls, telling Re/code, "It does worry me, for the development of my kids and the next generation, that people can be so cruel."
Do you think Paltrow was right to compare her life to "war"? Let us know in the comments!