Exclusive
Gigolo Wars! Professional Escort Brace Land Slams Lea Michele's New Man, Says He's A Phony Who 'Fooled' The 'Glee' Star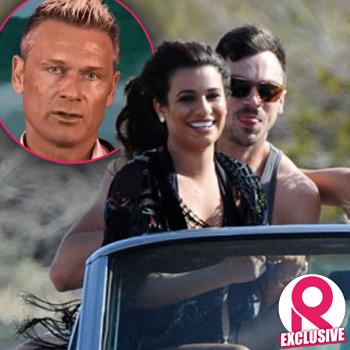 Takes one to know one? Gigolos star Brace Land says Lea Michele's new boyfriend and rumored escort Matthew Paetz is a fake and a "phony" who is making the entire profession look bad — not to mention, his famous girlfriend.
Land, the lead actor on the Showtime hit Gigolos, based on the world of Las Vegas male escorts, said Paetz is not a true vet of the industry, and has linked himself to the profession just for the publicity.
Article continues below advertisement
"This guy's got a lot of nerve stealing our spotlight," Land told Radar exclusively. "I've never heard of this guy and I know all the Vegas gigolos. He even has the nerve to be going around telling people he's on my show! I'm furious and I'm going to crush this clown."
Paetz was discovered on the website Cowboys4Angels, created by Garren James, a friend of Land.
"All I know is, Garren told me Matthew's fake profile was taken down and he was going under the name of 'Christian,'" Land said. "One thing that's a cardinal rule is gigolos don't lie to the customer. This guy has taken Lea Michele and maybe fooled her, but he's not fooling anyone else. I'll make sure of that!"
Land said he and his fellow castmates and gigolos have worked their tails off — literally — trying to dispel the seedy reputation of male escorts and show Americas that many gigolos are normal guys. Now, he says that copycats like Paetz are trying to cash in.
"This guy wants to get in on our action," Land said. "Who the hell is this phony? He was probably flipping burgers down the street. Everybody wants a piece of our action."
Article continues below advertisement
With Gigolos going into its sixth season on Showtime, Land is in discussions for a spinoff series tentatively called Gigolo Bootcamp.
"People ask me all the time a ton of questions like 'What kind of skin cream do you use?' or 'How do you pick up girls?'" he explains. "So this show will sort it all out and put it out there."
He insists, "We've glamorized being a gigolo. We're real people, we're good guys, it's not a back door thing. We took Richard Gere's American Gigolo to another level. Our profession is now an attraction to everyone."
Including Michele? She's yet to comment on her boyfriend's past, but what do you think? Let us know in the comments!