Exclusive
Big Tipper! Dr. Dre Gives 'Stunned' Waitress $5,000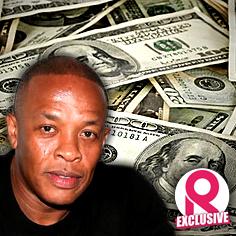 Some stars (like Kourtney Kardashian!) may be infamous for stiffing wait staff— but other even bigger celebs are much more generous.
Beats by Dre founder and iconic hip-hop rapper and producer Dr. Dre, 49, partied at the Skybar in West Hollywood's Mondrian Hotel on June 12, taking shots of tequila.
As security escorted him out around 2 am, the big-hearted star dropped the waitress a $5,000 tip.
"She was stunned!" says an insider, adding that the mogul was happy to take photos with fans and chat with the deejay, Sanni Val Fleury from Immigre.
Article continues below advertisement
Earlier in the night, the newly-minted billionaire attended the Full Moon Bazaar in the hotel, picking up a pricey Mac & Lou bracelet for his wife, Nicole Threatt.