Exclusive
Donald Sterling Lets It All Hang Out While Sunbathing On Weekend Getaway With FOUR New 'Ethnic' Girlfriends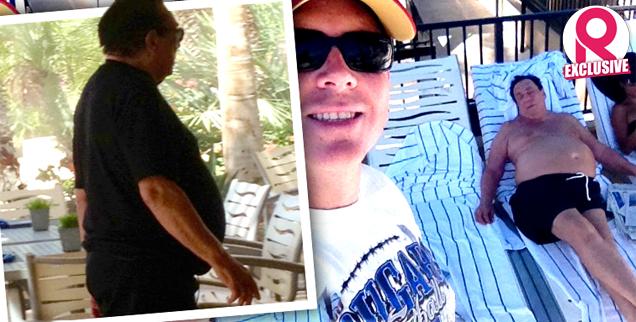 Donald Sterling enjoyed a weekend getaway with not one, not two, but FOUR different women, an eyewitness exclusively tells RadarOnline.com.
The 80-year-old billionaire flaunted his wealth and playboy status -- despite still being married to his wife of 59 years, Shelly Sterling -- with two Asian and two African American women at the JW Marriott hotel in Palm Desert, California.
In what can only be described as an epic selfie with the shamed Los Angeles Clippers owner, Instagram user concert_mark exclusively tells RadarOnline.com he saw Sterling "showing off his like of ethnic women" throughout the weekend at the popular resort.
Article continues below advertisement
"He was with two Asian and two black women, but never all at once. It was two the first day and then two the second day at separate times," concert_mark, who insisted on going by his Instagram handle, said.
"It was real obvious, the way he was laying with them. He was walking around with them and buying them stuff. My wife was very jealous of all the Louis Vuitton's walking around!"
As RadarOnline.com reported on Monday morning, Sterling with photographed with an African American woman checking in at the desert hotel.
"He didn't seem to have a care in the world and it looked pretty clear why that chick was with him," that eyewitness told RadarOnline.com.
"They were being really affectionate with each other."
And while there were reports in May that Sterling had been diagnosed with Alzheimer's symptoms, concert_mark told RadarOnline.com it appeared that something was "off" with Sterling throughout the weekend.
"He was having issues walking and you can tell he's not all there," he said.
Article continues below advertisement
"And he craps with the door open. I inadvertently followed him to the bathroom and there he was, door wide open. He refused to close it."
So while Sterling has clearly ended things with alleged mistress V Stiviano, who was at the center of leaked audio in which Sterling made racist remarks, it looks like he's quickly moved on.
"He was obviously trying to be seen, at such a busy place and at the pool on a weekend. He strolled through the property with them a lot on his arm and it seemed like he was trying to prove he's not a racist," concert_mark said.
"I asked for a photo but he said no, so I waited for this selfie."
And what a selfie it was.